Weight Watchers Spaghetti and Homemade Sauce Recipe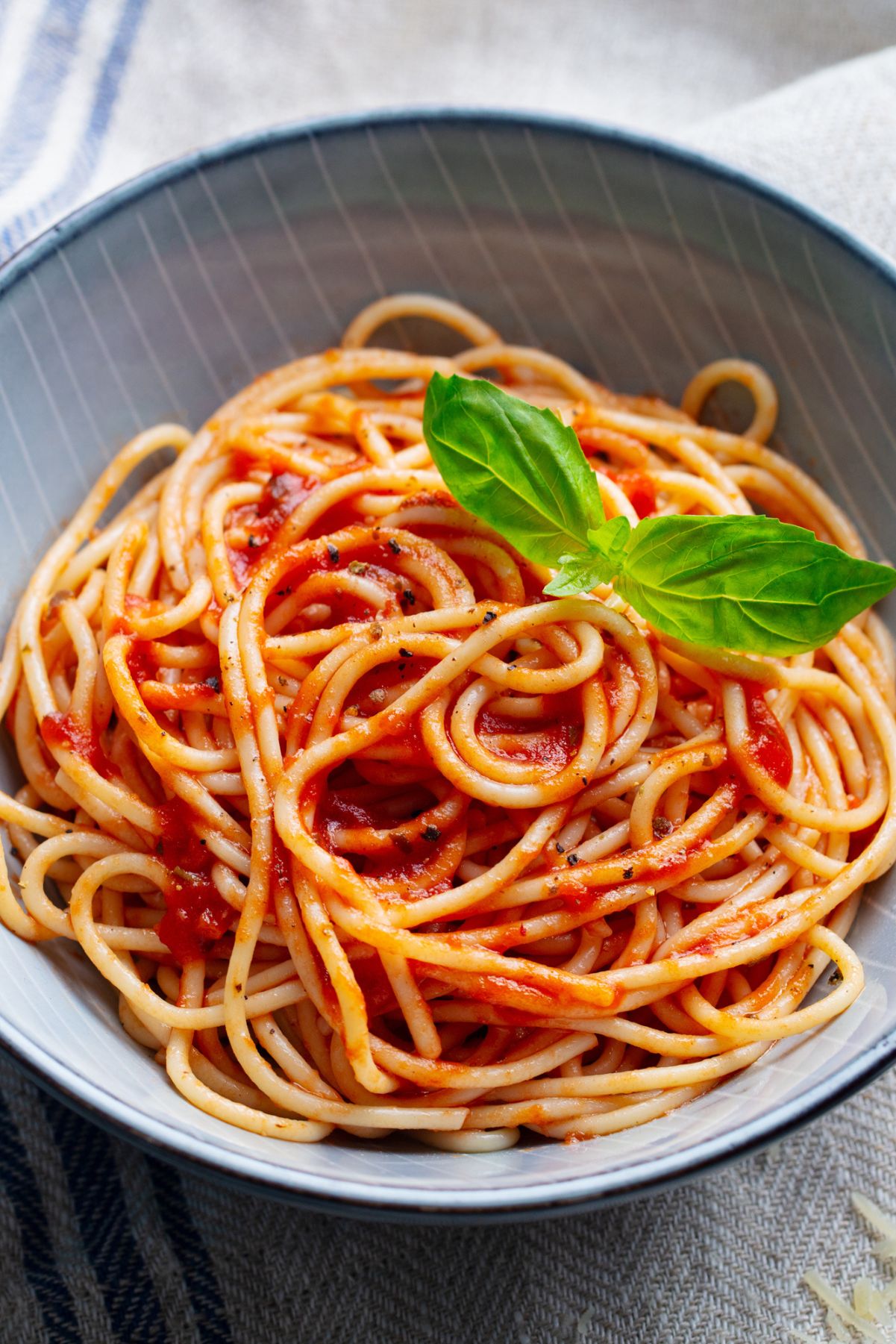 Weight Watchers Spaghetti and Homemade Sauce Recipe. Welcome to a recipe that will have your taste buds singing with joy.

This delicious dish features tender pasta smothered in a flavorful and hearty homemade sauce.
The sauce is made with a blend of fresh ingredients including onions, garlic, oregano, tomato paste, and tomatoes. The combination of flavors creates a savory and tangy taste that will leave you wanting more.

The low-fat and low-calorie emphasis makes this dish a perfect option for those who want to indulge without compromising their diet.
The pasta, cooked to perfection, complements the sauce perfectly. The tender and firm texture of the spaghetti will make you feel like you're indulging in a restaurant-quality meal, right in the comfort of your own home.
This Italian dinner recpe is simple to prepare and perfect for any occasion. It's a dish that the whole family will enjoy, and you'll feel great knowing that it's a healthy and nutritious meal.


Weight Watchers Points

5 Points®

MyWW Points: 5 Blue Plan and 9 Green Plan

9 Smart Points


Related Recipes

We add new recipes almost every day, so check back often!

We are not affiliated with Weight Watchers/WW in any way. We just like creating healthier recipe options. We do not give any advice on diet or eating habits. Please consult a doctor before changing your diet.
Points® are a trademark of the WW corporation, double check Points® on their official calculator.

Affiliate Disclosure: Some links may be affiliate links where I make a small commission if you purchase anything after clicking a link. There is no additional cost to you. As an Amazon Associate I earn from qualifying purchases.
Love wine? Check out this cute wine glass! The Weight Watchers Points Stemless Wine Glass. 3 Points, 5 Points, Who Cares?

Fun but practical! Measurements are at 4 ounces, 7 ounces, and 10 ounces. Don't forget to convert the points to your WW Personal Points for your individual plan.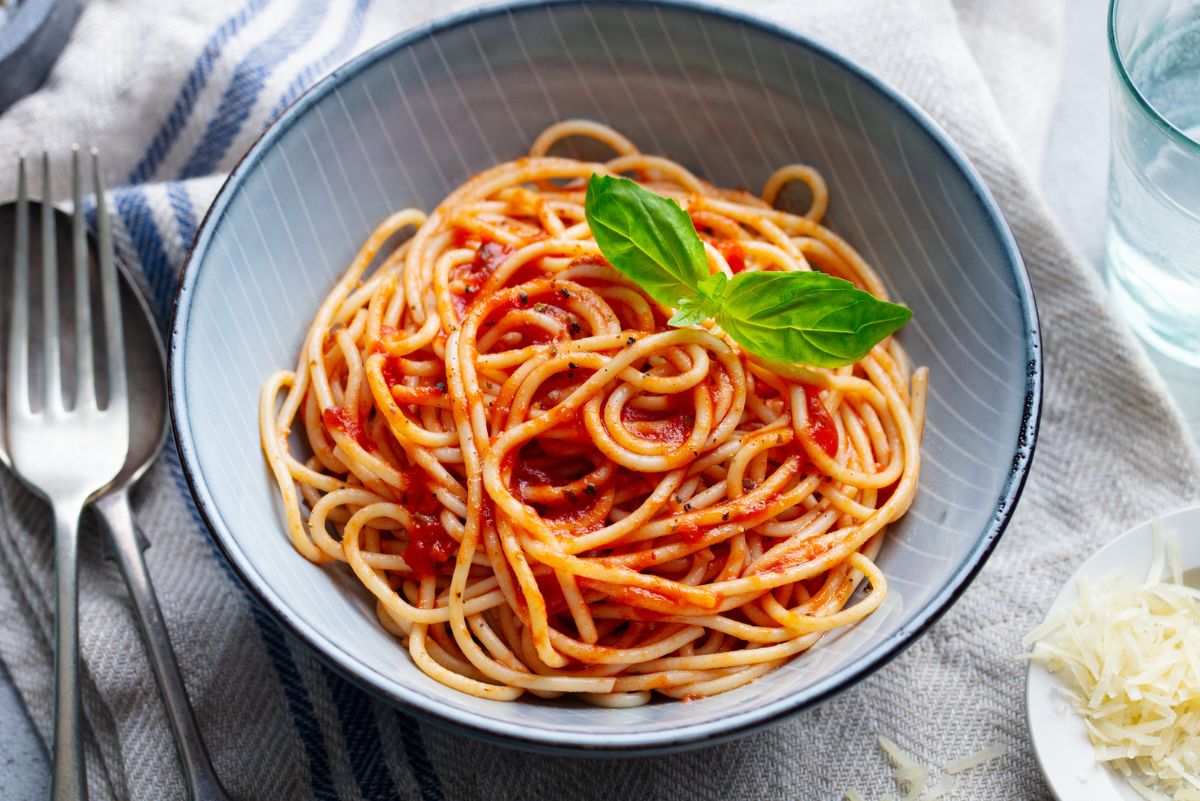 If you're interested in seeing the tools and equipment we use in our kitchen, we have them posted here.

Need to make more or fewer servings?
On Desktop, hover over "Servings" # and move the slider to desired number of servings.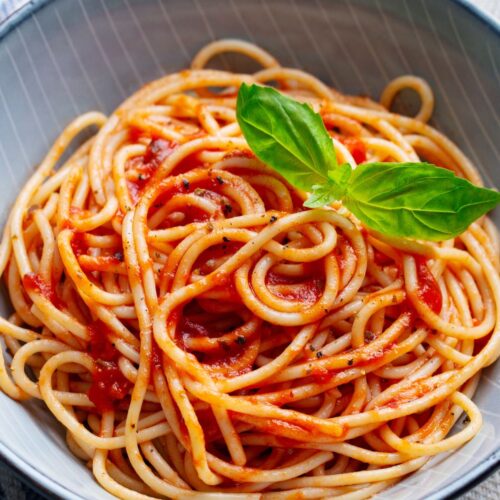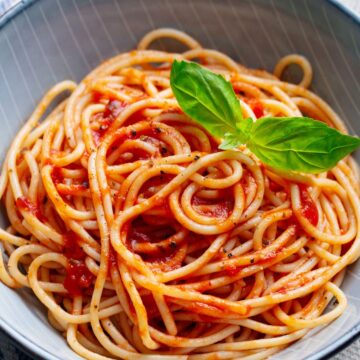 Weight Watchers Spaghetti and Homemade Sauce
This Weight Watchers spaghetti and homemade sauce recipe is a healthy and delicious comfort food meal that will satisfy your cravings.
Instructions
Follow the instructions on the package of pasta to cook it. Once it is done, drain the pasta.

Place a large saucepan on the stove over medium heat. Pour some oil in it and wait until the oil starts to shimmer.

Add the onion to the saucepan and stir frequently. Keep cooking until the onion becomes translucent. This should take around 2 to 3 minutes.

Add the garlic, oregano, and salt to the saucepan. Continue cooking and stirring for 1 minute.

Mix the tomato paste into the saucepan. Cook and stir for 1 more minute.

Pour the tomatoes into the saucepan. Increase the heat to bring the mixture to a boil.

Once the mixture is boiling, lower the heat to a simmer. Cook for 5 to 10 minutes, or until the sauce has thickened.
Notes
Serving Size: 1 Cup Pasta and

¾

Cup Sauce
5 Points®
MyWW Points: 5 Blue Plan and 9 Green Plan
We are not associated with Weight Watchers/WW in any way. Double check points on their official calculator.
Nutrition
Calories:
282
kcal
Carbohydrates:
45
g
Protein:
17
g
Fat:
8
g
Saturated Fat:
1
g
Polyunsaturated Fat:
0.5
g
Monounsaturated Fat:
3
g
Sodium:
524
mg
Potassium:
370
mg
Fiber:
11
g
Sugar:
11
g
Vitamin A:
287
IU
Vitamin C:
12
mg
Calcium:
90
mg
Iron:
8
mg
You May Also Like:
---
---