Weight Watchers Roasted Carrots Recipe

Weight Watchers Roasted Carrots Recipe. Carrots are a versatile and delicious root vegetable. They can be eaten raw, cooked, or roasted. Roasted carrots are a simple and healthy side dish that can be made with just a few ingredients.
This quick and easy, five ingredient side dish recipe is ready in just 30 minutes.
You will need carrots, olive oil, kosher salt, black pepper, and fresh parsley. That's it!
This side is healthy, low calorie and there's no butter!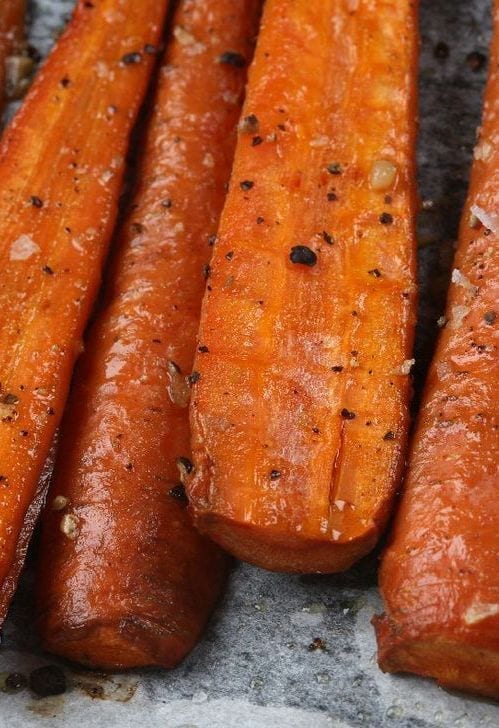 Weight Watchers Points

MyWW Points: 4 Green Plan
4 Smart Points.

Personal Points will vary based on your individual WW plan.

What is Roasting
Roasting is a cooking method that uses dry heat to cook food. This can be done in an oven, on a stovetop, or over an open fire.
Roasting is a popular way to cook meat, as it helps to brown the outside of the meat while keeping the inside tender and juicy. Roasting can also be used to cook vegetables, fruits, and nuts.
The key to successful roasting is to use high heat so that the foodcooks evenly. For meat, this means using an oven temperature of 400 degrees Fahrenheit or higher. For vegetables, a lower temperature of 350 degrees Fahrenheit is usually sufficient.
Roasting is a simple and delicious way to cook a variety of foods. By following a few basic principles, anyone can master this cooking method and create mouth-watering dishes that are sure to please.


Related Recipes
We have more Weight Watchers Side Dish Recipes here,

more Vegetarian Weight Watchers Recipes here,

and more Quick and Easy Weight Watchers Recipes here!



We are not affiliated with Weight Watchers/WW in any way.
Double check points on the official calculator.

Affiliate Disclosure: Some links may be affiliate links where I make a small commission if you purchase anything after clicking a link. There is no additional cost to you. As an Amazon Associate I earn from qualifying purchases.
Love wine? Check out this cute wine glass. The Points Glass Stemless Wine Glass. 3 Points, 5 Points, Who Cares

Fun but practical! The measurements are at 4 ounces, 7 ounces, and 10 ounces.
What to serve with
Homemade Weight Watchers Chicken Fettuccini Alfredo
This delicious Italian dinner is a family favorite. You will make this meal with garlic, boneless skinless chicken breast, chicken broth, heavy whipping cream, Greek yogurt, fettuccini pasta, Parmigiano-Reggiano cheese, and parsley.
Weight Watchers Healthy Parchment Salmon
This quick and easy dinner is ready in just 35 minutes. You will only need 6 ingredients, salmon fillet, salt, black pepper, basil leaves, olive oil flavored cooking spray, and fresh lemon.
Weight Watchers Butternut Squash Macaroni And Cheese
This one pot meal is quick and easy to make, and is ready in just 25 minutes. This is a great dinner option for days when you don't have time to make an elaborate meal.
Weight Watchers Slow Cooker Italian Pot Roast
This flavorful beef is made with salt, pepper, flour, olive oil, red onion, garlic, rosemary, Porcini mushrooms, tomatoes, and parsley. The perfect weeknight meal! Just throw all the ingredients in your slow cooker and let it do all the work for you.
Weight Watchers Lemon Garlic Tilapia
You'll love how quick and easy it is to put together, and your family will love the taste. You will have this main dish on the table in just 20 minutes, so it's a great option for busy nights when you don't have a lot of time to prepare dinner.
Weight Watchers Turkey Zucchini Bites
This easy recipe is like mini meatloaves made with ground turkey, zucchini, onion, red bell pepper, egg, Worcestershire sauce, Dijon mustard, couscous, and barbecue sauce.
Weight Watchers Herbed Tri-Tip
This grilled beef is seasoned with garlic salt, salt, black pepper, celery salt, onion powder, dried dill, crushed dried rosemary, and paprika.
Weight Watchers Balsamic Chicken Thighs
With only 5 ingredients, this is a budget friendly, and super easy dinner. Made with skinless chicken thighs, salt, pepper, shallots, and balsamic vinegar. This one skillet meal is a family favorite in our house.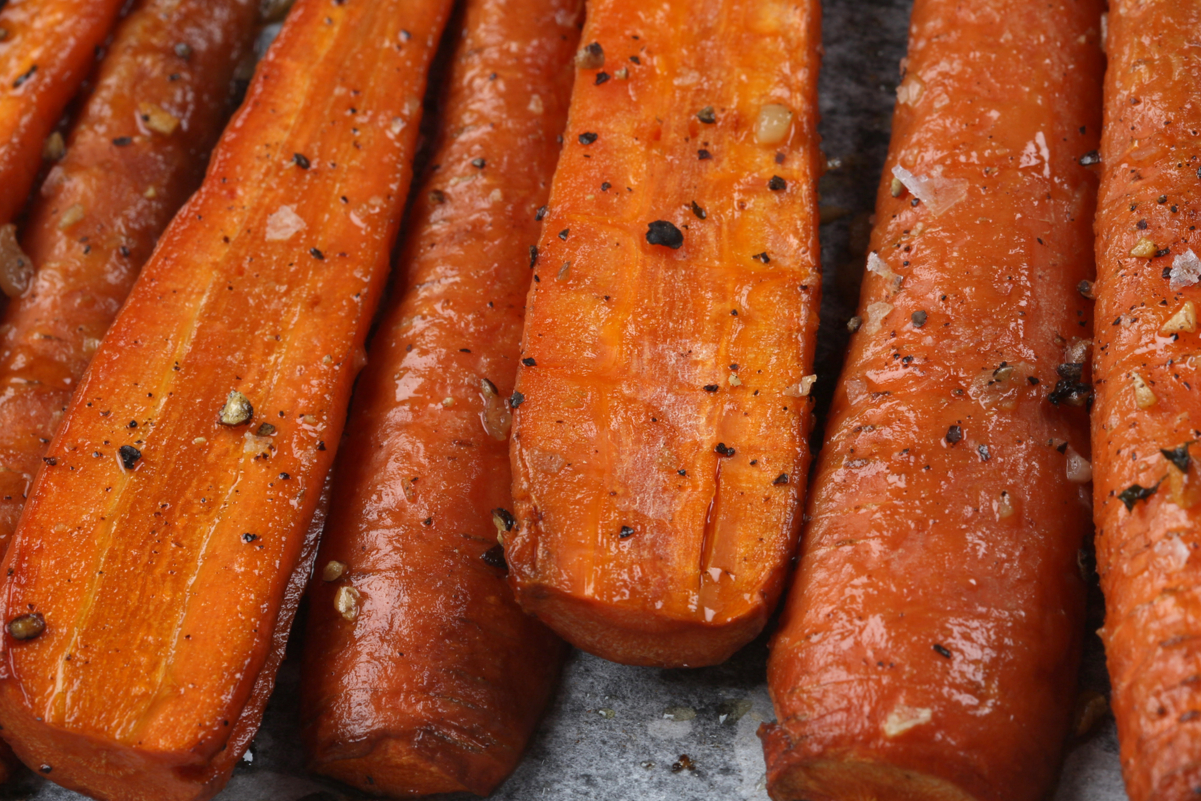 Need to make more or fewer servings?
On Desktop, hover over "Servings" # and move the slider to desired number of servings.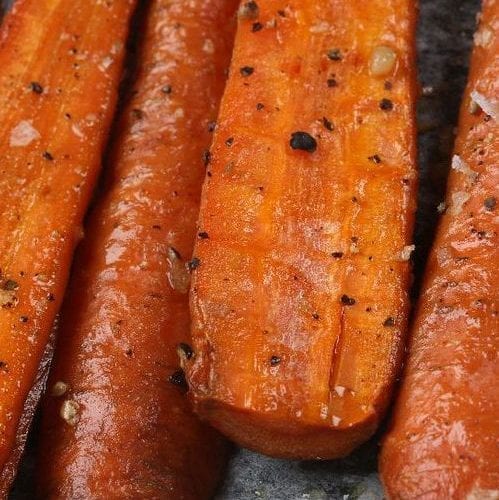 Weight Watchers Roasted Carrots
Weight Watchers Roasted Carrots Recipe – A quick and easy 5 ingredient side dish recipe that's ready in 30 minutes. Healthy, low calorie with no butter! 4 Smart Points.
Instructions
Cut carrots in half lengthwise, then diagonally in 1½ inch thick slices.

In a bowl, add carrots, olive oil, salt, and pepper. Toss to coat. Place on a cookie sheet in a single layer.

Cook in preheated oven for 20 minutes or until tender and browned.

In a bowl, add carrots and parsley, or dill and toss. Serve.
Nutrition
Calories:
110
kcal
Carbohydrates:
12
g
Protein:
1
g
Fat:
7
g
Saturated Fat:
1
g
Sodium:
484
mg
Fiber:
3.5
g
You May Also Like:
---
---