Weight Watchers Air Fryer Latkes (Potato Pancakes) Recipe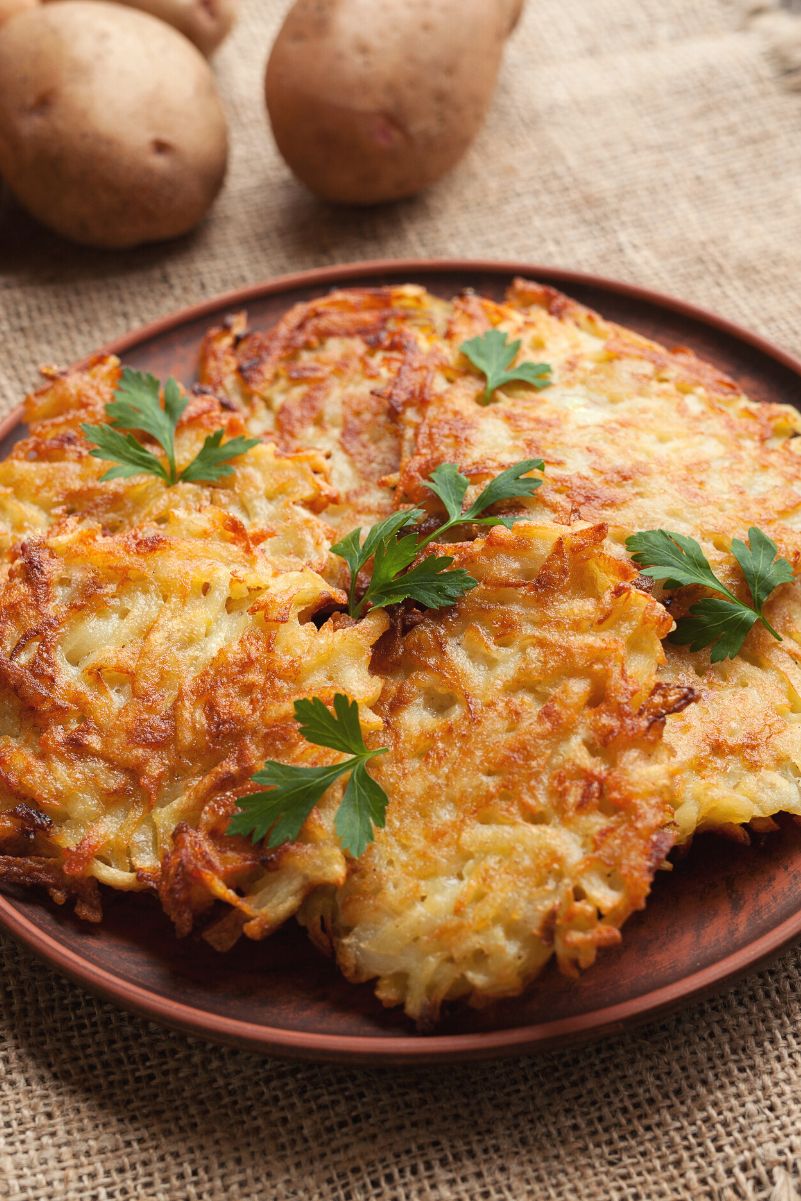 Weight Watchers Air Fryer Latkes (Potato Pancakes) Recipe. Latkes are a beloved dish that often bring back memories of special occasions and holiday gatherings.

But what if you could enjoy the crispy, savory goodness of latkes any day of the week without sacrificing your health goals? That's where this Weight Watchers Air Fryer Latkes recipe comes in.
This delicious and low-fat version of the classic dish is a game-changer for anyone looking to satisfy their cravings while staying on track with their diet.
Made with grated potatoes and onions, this dish is a vegetarian option that's perfect for breakfast, brunch, or as a side dish.
The key to getting that crispy texture is using the air fryer, which eliminates the need for excess oil, making it a healthier alternative to traditional frying methods.
To bring even more flavor to the table, we've paired the latkes with a simple yogurt and scallion sauce that complements the savory flavors perfectly.
This dish is not only healthy, but it's also family-friendly, making it the perfect meal to share with loved ones.
They're easy to make, so you won't spend hours in the kitchen.
Whether you're new to cooking or an experienced home cook, you'll love the simplicity and deliciousness of this Weight Watchers Air Fryer Latkes recipe.
So, why wait? Give it a try today and enjoy a guilt-free meal that you won't be able to resist!


Weight Watchers Points

3 Points®

MyWW Points: 3 Blue Plan and 4 Green Plan



Related Recipes

Weight Watchers Apple And Potato Latkes

Weight Watchers Baked Latkes

Weight Watchers Zucchini Potato Pancakes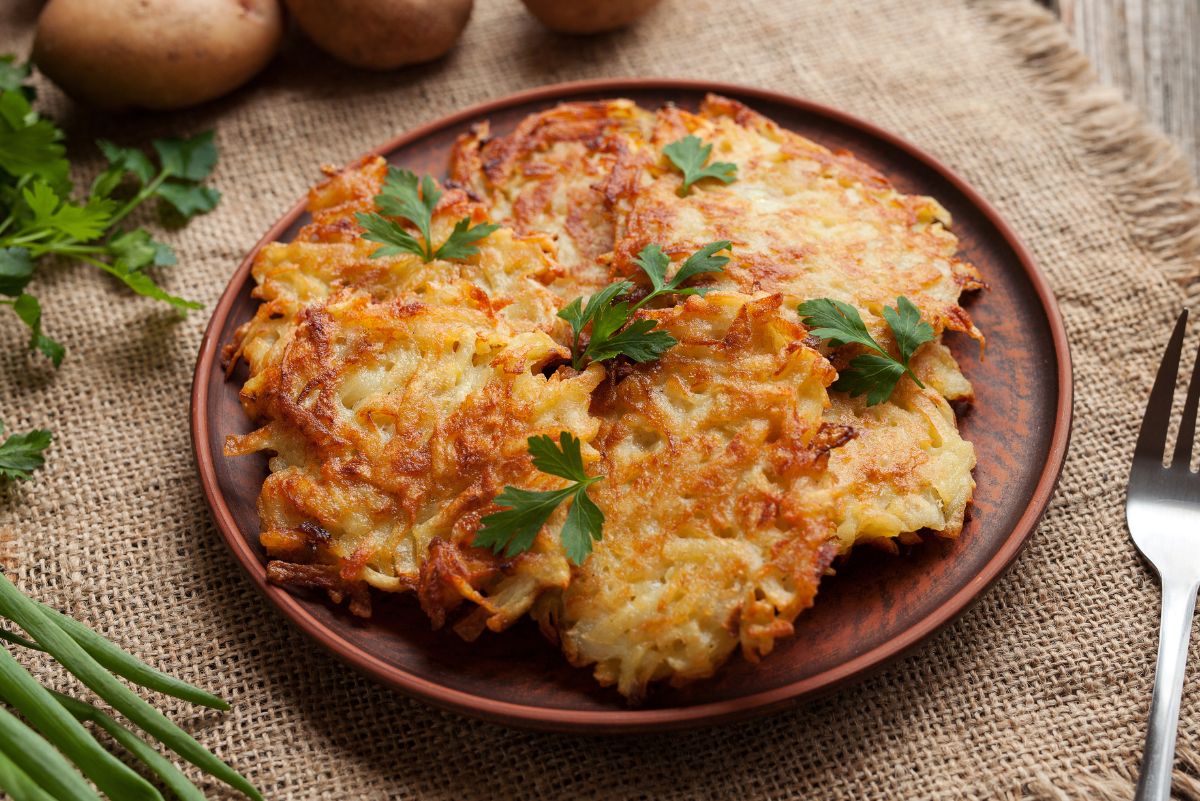 If you're interested in seeing the tools and equipment we use in our kitchen, we have them posted here.

Need to make more or fewer servings?
On Desktop, hover over "Servings" # and move the slider to desired number of servings.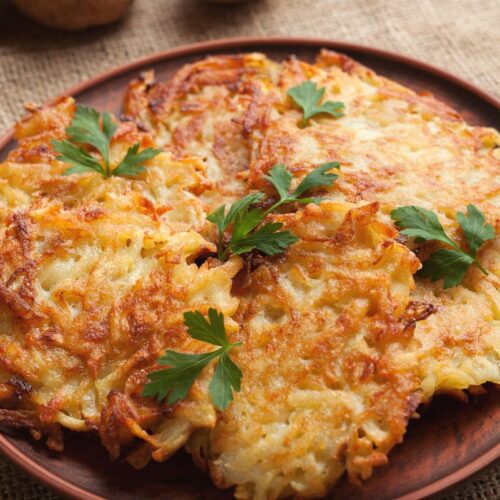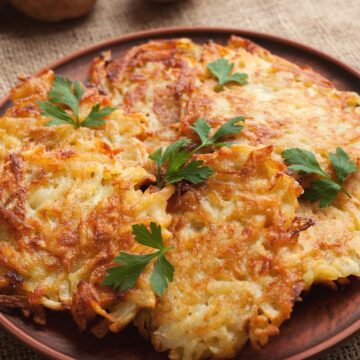 Weight Watchers Air Fryer Latkes
Weight Watchers Air Fryer Latkes Recipe. Upgrade your breakfast game with this family-friendly and low-fat vegetarian dish! These crispy potato pancakes, made in the air fryer, are the perfect addition to your brunch menu.
Instructions
Set your air fryer to 375°F.

Grate the potatoes using a box grater or a food processor shredding blade.

Rinse the shredded potatoes in a colander and drain.

Grate the onion using the large holes of a box grater.

Place the shredded potatoes and onion on a kitchen towel and squeeze to remove as much liquid as possible.

Using a wire whisk, whisk an egg in a large bowl, then add the potato mixture and mix well.

Add cornstarch, salt, and pepper to the bowl, then mix well again.

Spray the air fryer basket with nonstick spray.

Place ¼ cup portions of the potato mixture into the basket and flatten slightly.

Spray the top of the latkes with nonstick spray.

Air-fry the latkes for 8 to 10 minutes, flipping them over after 6 minutes.

Repeat steps 9 to 11 with the remaining potato mixture.

Mix together yogurt, scallions, and salt in a small bowl.

Serve the latkes with the yogurt sauce and applesauce, if desired.
Notes
Serving size: 2 latkes, 2 tablespoons yogurt sauce, and 2 tablespoons applesauce (if desired)
3 Points®
MyWW Points: 3 Blue Plan and 4 Green Plan
We are not associated with Weight Watchers/WW in any way. Double check points on their official calculator.
Nutrition
Calories:
163
kcal
Carbohydrates:
32
g
Protein:
7
g
Fat:
1
g
Saturated Fat:
1
g
Polyunsaturated Fat:
1
g
Monounsaturated Fat:
1
g
Trans Fat:
1
g
Cholesterol:
47
mg
Sodium:
470
mg
Potassium:
565
mg
Fiber:
2
g
Sugar:
7
g
Vitamin A:
123
IU
Vitamin C:
8
mg
Calcium:
29
mg
Iron:
1
mg
You May Also Like:
---
---