Weight Watchers Spicy Chicken Pasta Recipe

Weight Watchers Spicy Chicken Pasta Recipe

Pasta! I love pasta! I love pasta!

I'm always trying to come up with more ways to make chicken.

I like chicken, but it can get boring if you don't get creative.

This one has a little heat!

Onion, garlic, cumin, jalapeno pepper, cayenne pepper. See, spicy!

And cheesy, did I mention cheesy? Part-skim Mozzarella cheese, Low-fat Cheddar Cheese, Low-fat Swiss Cheese, and Parmesan Cheese.

The points are really high on the MyWW Green Plan, but not bad on the Blue Plan which is more pasta friendly.

So, sorry Green Plan people. This one could maybe be for a cheat day for you.

If you need lower points, check out our other Weight Watchers Chicken Recipes

We also have a lot more Weight Watchers Dinner Recipes here!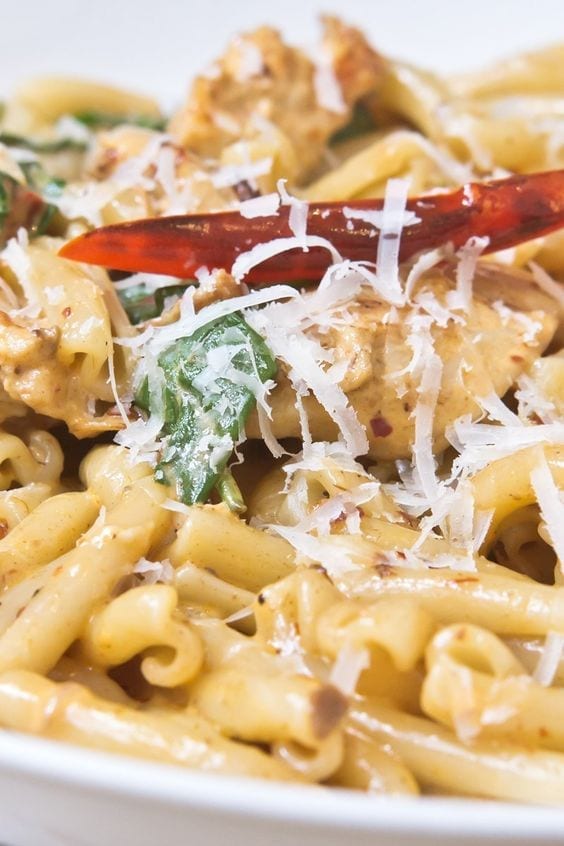 We add new recipes almost every day, so check back often!

We are not affiliated with Weight Watchers/WW in any way. We just like creating healthier recipe options. We do not give any advice on diet or eating habits. Please consult a doctor before changing your diet.
Double check points on the official calculator.

Affiliate Disclosure: Some links may be affiliate links where I make a small commission if you purchase anything after clicking a link. There is no additional cost to you. As an Amazon Associate I earn from qualifying purchases.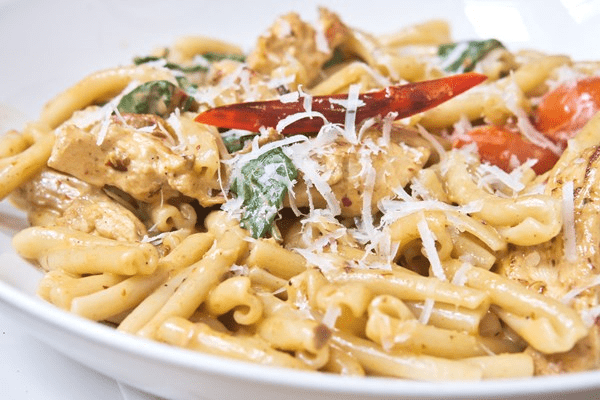 Ingredients you will need:
How to make:
Preheat the oven to 350° F, Prepare a 9X13 baking dish by spraying with non-stick cooking spray.
In a large saute pan, melt margarine over medium/high heat. Add in garlic, coriander, onion, and cumin. Saute until onion is soft, approx 2 – 3 minutes.
Stir in flour. Cook additional 1 minute.
Gradually stir in milk using a wire whisk. Continue stirring until milk and flour are mixed well.
Bring to a boil, stirring occasionally. Reduce heat, add in cayenne pepper, tomatoes with juice, jalapeno pepper, and salt. Simmer approx 15 minutes.
Remove from heat. Stir in swiss cheese, cheddar cheese, and mozzarella cheese. Mix well.
In a large mixing bowl, combine the cooked pasta, cooked chicken, and prepared cheese sauce. Mix well. Pour into prepared baking dish.
In a small mixing bowl, add bread crumbs and parmesan cheese. Mix well. Sprinkle the mix on top of the pasta mix.
Bake until the topping is a golden brown. Approx 30 – 35 minutes. Serve
Equipment you will need:
Baking Dish – 9×13
Saute Pan
Wire Whisk
Large Mixing Bowl
Small Mixing Bowl


Need to make more servings, or fewer servings?

Click on the "Servings: #" in the recipe below and move the slider to adjust the recipe.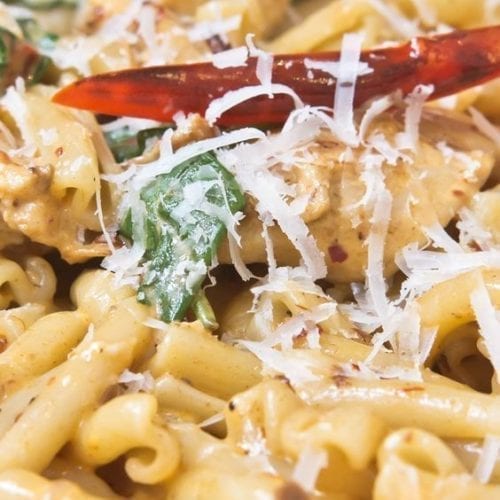 Weight Watchers Spicy Chicken Pasta
Weight Watchers Spicy Chicken Pasta Recipe with onion, garlic, cumin, jalapeno pepper, cayenne pepper, and penne pasta. MyWW Blue Plan points 7
Instructions 
Preheat the oven to 350° F, Prepare a 9X13 baking dish by spraying with non-stick cooking spray.

In a large saute pan, melt margarine over medium/high heat. Add in garlic, coriander, onion, and cumin. Saute until onion is soft, approx 2 – 3 minutes.

Stir in flour. Cook additional 1 minute.

Gradually stir in milk using a wire whisk. Continue stirring until milk and flour are mixed well.

Bring to a boil, stirring occasionally. Reduce heat, add in cayenne pepper, tomatoes with juice, jalapeno pepper, and salt. Simmer approx 15 minutes.

Remove from heat. Stir in swiss cheese, cheddar cheese, and mozzarella cheese. Mix well.

In a large mixing bowl, combine the cooked pasta, cooked chicken, and prepared cheese sauce. Mix well. Pour into prepared baking dish.

In a small mixing bowl, add bread crumbs and parmesan cheese. Mix well. Sprinkle the mix on top of the pasta mix.

Bake until the topping is a golden brown. Approx 30 – 35 minutes. Serve
Notes
MyWW Points:

7 Blue Plan

and

10 Green Plan
7 WW Freestyle Points and 10 Smart Points
Nutrition
Calories:
361.9
kcal
Carbohydrates:
49.9
g
Protein:
23.1
g
Fat:
8.1
g
Saturated Fat:
3.6
g
Cholesterol:
41.1
mg
Sodium:
633.2
mg
Fiber:
6.3
g
Sugar:
5.2
g
You May Also Like:
---
---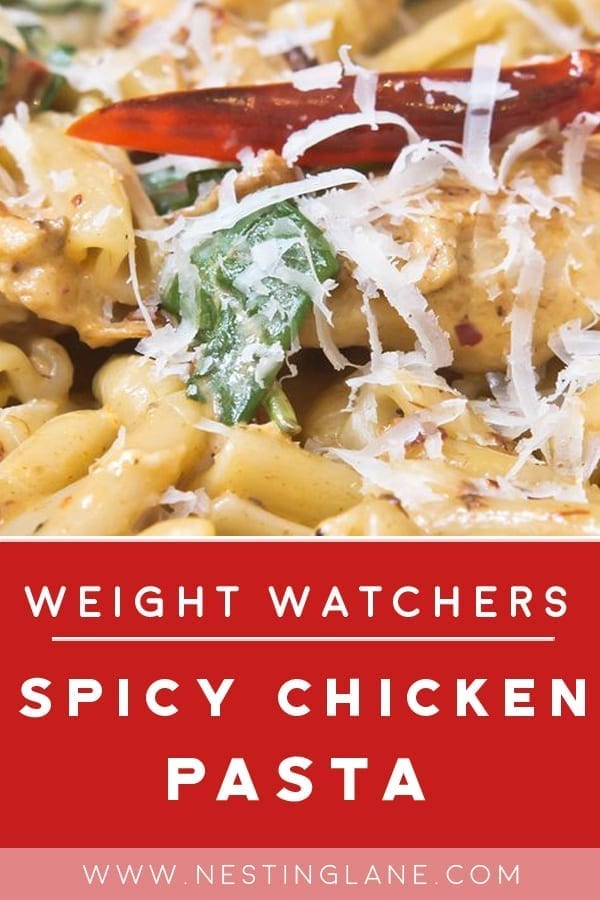 Not interested in Healthy Recipes? Check out our sister site, Nesting Lane Indulge