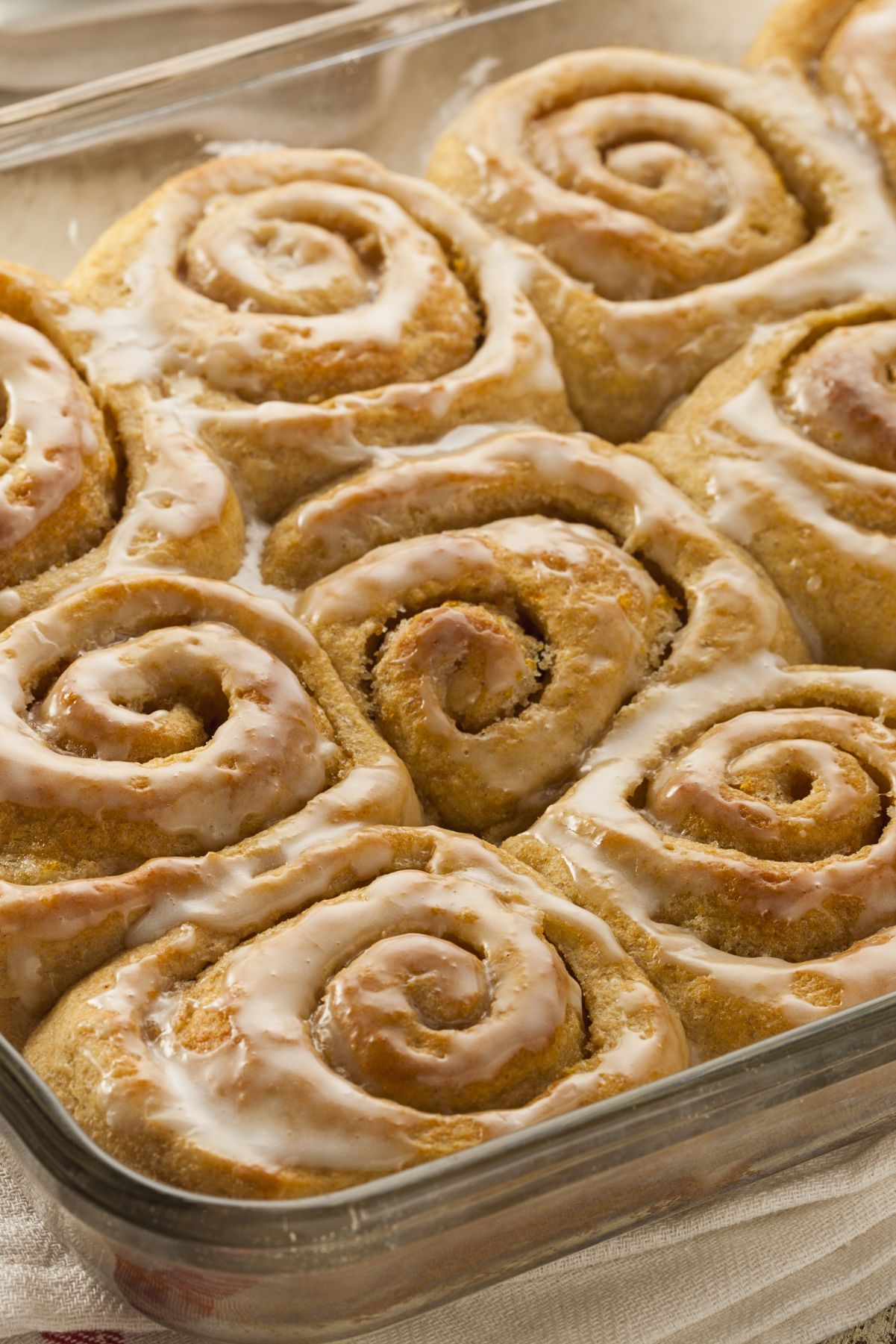 Easy Weight Watchers Cinnamon Rolls Recipe

Easy Weight Watchers Cinnamon Rolls Recipe. Discover the perfect breakfast with our simple yet delicious cinnamon rolls recipe.
These rolls are an all-time favorite, with soft, fluffy dough with the blend of cinnamon and brown sugar.
They're made with everyday pantry ingredients like flour, sugar, yogurt, and eggs, making them an easy baking project for any day of the week.
Baking these cinnamon rolls is not only a fun process, but it also results in a delightful morning surprise that will leave everyone reaching for seconds.
The dough is straightforward to make, thanks to the addition of yogurt, which adds a subtle tanginess and aids in achieving a wonderfully tender texture.
Layered with the sweet-spicy mix of brown sugar and cinnamon, every bite of these rolls is a comforting delight.
These cinnamon rolls are perfect on their own, but a drizzle of the included glaze gives a sweet finish that beautifully complements the rich cinnamon flavor.
Serve them warm from the oven for an irresistibly cozy breakfast or brunch, or pair them with a cup of coffee for a satisfying afternoon treat.
Now, let's get to the tips and tricks.
Don't rush the kneading process; it helps to develop the gluten in the flour, giving your cinnamon rolls their classic chewy texture.
If the dough is sticky, adding more flour gradually will help you achieve the right consistency.
Rolling the dough tightly ensures perfect spirals and helps keep the filling in place.


Weight Watchers Points

5 Points (2022/2023 Plan)

MyWW Points: 5 Blue Plan and 6 Green Plan

5 WW Freestyle Points and 6 WW Smart Points


Related Recipes

Weight Watchers Cinnamon Rolls

Weight Watchers Cinnamon Muffins

Weight Watchers Churros And Chocolate Sauce (Air Fryer)




We add new recipes almost every day, so check back often!

We are not affiliated with Weight Watchers/WW in any way. Please consult a doctor before changing your eating habits.
Double check points on the official calculator.

Affiliate Disclosure: Some links may be affiliate links where I make a small commission if you purchase anything after clicking a link. There is no additional cost to you. As an Amazon Associate I earn from qualifying purchases.
Love wine? Check out this cute wine glass! The Weight Watchers Points Stemless Wine Glass. 3 Points, 5 Points, Who Cares?

Fun but practical! Measurements are at 4 ounces, 7 ounces, and 10 ounces. Don't forget to convert the points to your WW Personal Points for your individual plan.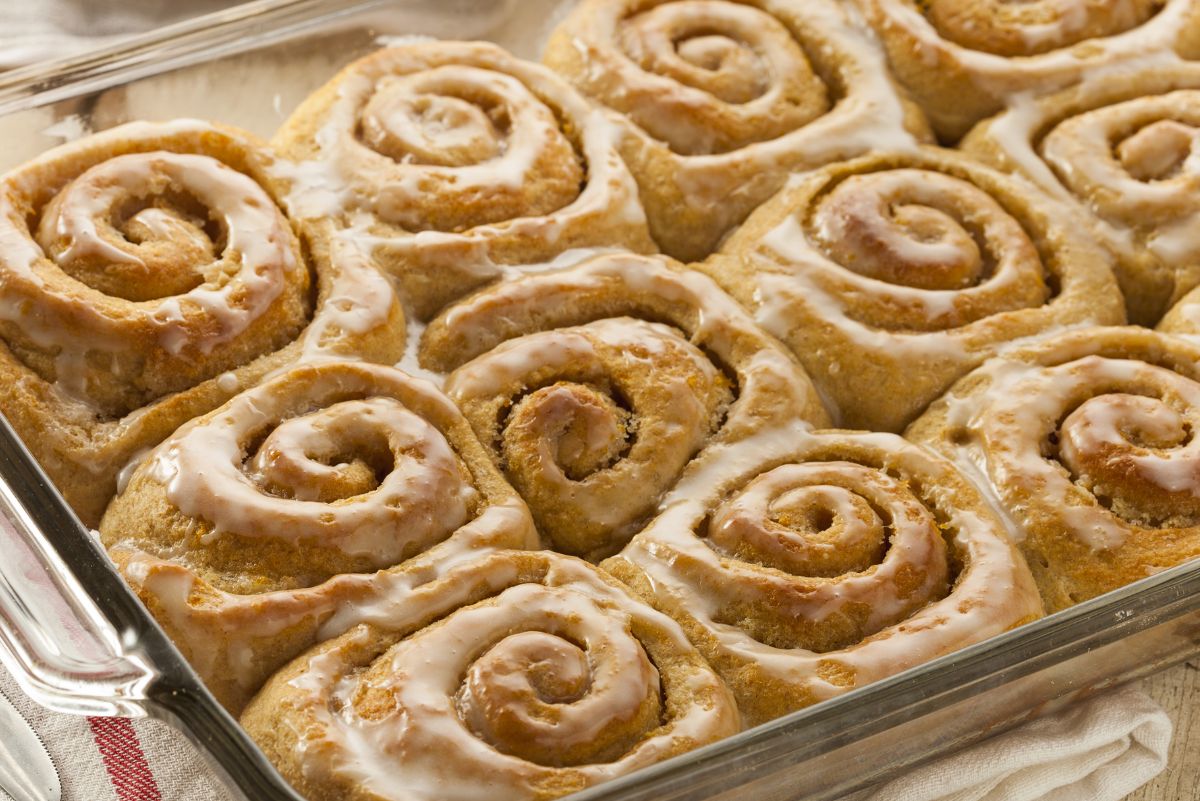 Frequently Asked Questions
Can I make these cinnamon rolls ahead of time?
Yes, you can prepare the dough and filling the night before, refrigerate it, and bake the next morning.
How do I store leftover cinnamon rolls?
Store any leftover rolls in an airtight container at room temperature for up to two days.
Can I freeze baked cinnamon rolls?
Yes, you can freeze baked and cooled cinnamon rolls. Wrap them individually and store in a freezer-safe bag.
Is the glaze necessary?
While the glaze adds a lovely sweetness, these cinnamon rolls are still delicious without it.

If you're interested in seeing the tools and equipment we use in our kitchen, we have them posted here.

Need to make more or fewer servings?
On Desktop, hover over "Servings" # and move the slider to desired number of servings.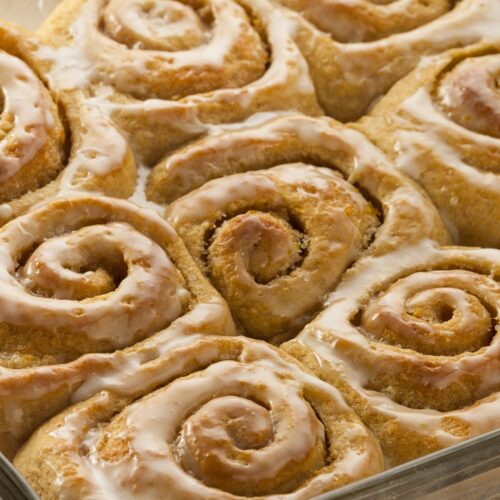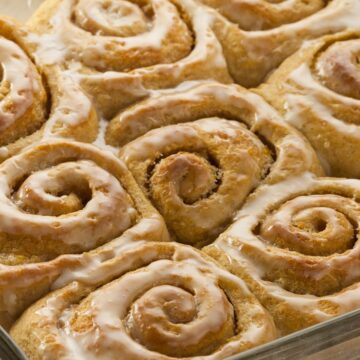 Easy Weight Watchers Cinnamon Rolls
Easy Weight Watchers Cinnamon Rolls Recipe from scratch. A quick and easy breakfast or dessert the whole family will love!
Instructions
Preheat your oven to 350°F

In a large bowl, combine the flour and 2 tablespoons of powdered sugar.

In a medium bowl, whisk together 1½ cups of yogurt, 1 tablespoon of vanilla, and an egg.

Gradually add the yogurt mixture into the flour mixture.

Stir the combined mixtures well with a wooden spoon until they're just combined.

Knead the dough in the bowl with your hands until it becomes smooth. This should take around 2 minutes.

If the dough is too sticky, add more flour. Do this 1 tablespoon at a time until the dough isn't sticky anymore.

Place a large piece of parchment paper on your work surface and lightly dust it with flour.

Place the dough on the floured parchment paper and roll it into a 12 x 9-inch rectangle.

Sprinkle brown sugar and cinnamon evenly over the dough, right to the edges.

Starting from a long edge, roll the dough tightly. You can use the parchment paper to help you.

Once you've formed a 12-inch-long roll, cut it into 12 slices, each 1 inch wide.

Arrange the slices in an 11 x 7-inch baking dish that has been coated with cooking spray.

Place the dish in your preheated oven and bake until the rolls are lightly browned. This should take about 22 to 25 minutes.

Once done baking, let the cinnamon rolls rest for 10 minutes before adding the glaze.
For the Glaze
Combine the remaining ½ cup powdered sugar, remaining 2 tablespoons of yogurt, and remaining ¼ teaspoon of vanilla. Stir until it's smooth.

Drizzle the glaze over the cinnamon rolls.

Serve the cinnamon rolls warm.
Notes
5 Points (2022/2023 Plan)
MyWW Points: 5 Blue Plan and 6 Green Plan
5 WW Freestyle Points and 6 WW Smart Points
We are not associated with Weight Watchers/WW in any way. Double check points on their official calculator.
Nutrition
Calories:
156
kcal
Carbohydrates:
30
g
Protein:
6
g
Fat:
1
g
Saturated Fat:
1
g
Polyunsaturated Fat:
1
g
Monounsaturated Fat:
1
g
Trans Fat:
1
g
Cholesterol:
18
mg
Sodium:
17
mg
Potassium:
37
mg
Fiber:
1
g
Sugar:
13
g
Vitamin A:
45
IU
Vitamin C:
1
mg
Calcium:
47
mg
Iron:
1
mg
You May Also Like:
---
---