Weight Watchers Eggs Benedict Recipe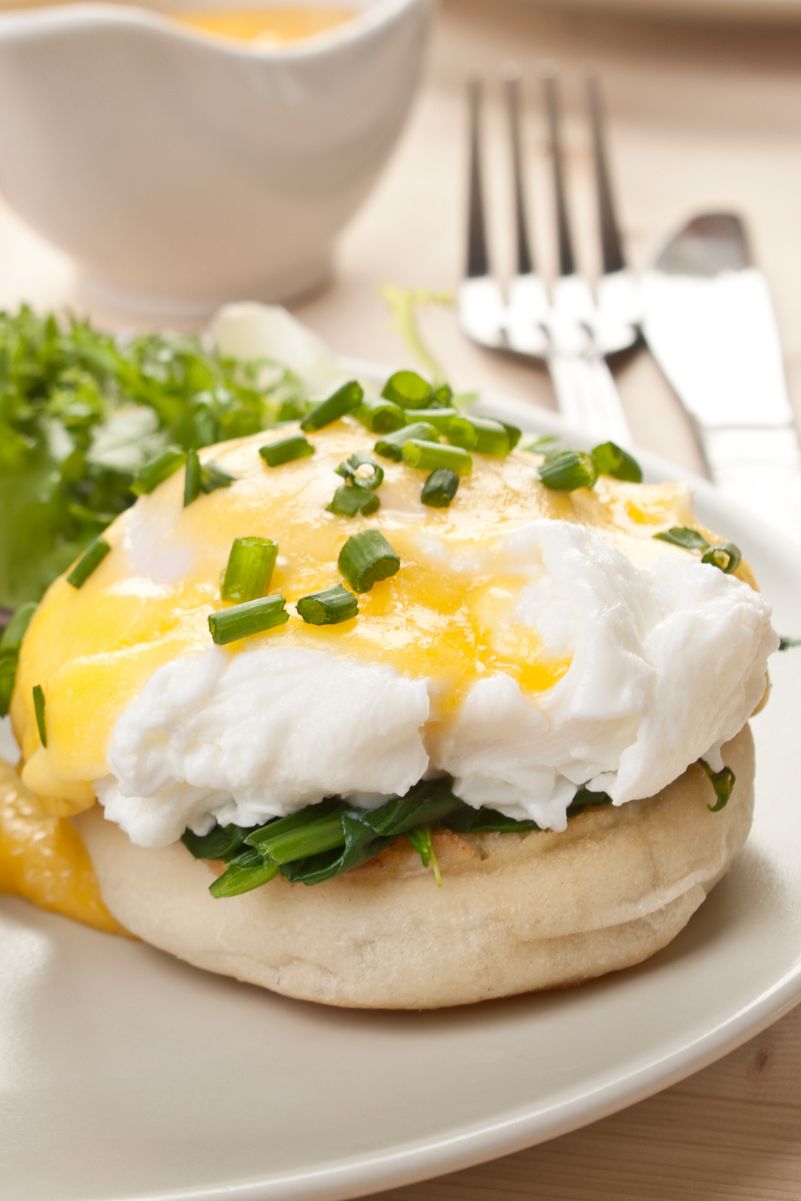 Weight Watchers Eggs Benedict Recipe! With a prep time of only 20 minutes, this classic dish is easier to make than you might think.
This version of Eggs Benedict is made with whole wheat English muffins, perfectly poached eggs, and a homemade Hollandaise sauce that's both tangy and creamy.
To make the Hollandaise sauce, you'll need just a few simple ingredients like egg yolks, fresh lemon juice, low-fat plain yogurt, paprika, and Dijon mustard. The result is a healthier version of the classic sauce that's just as delicious.
For a little extra flavor and nutrition, you can top your Eggs Benedict with fresh chives or some lightly wilted spinach. It's a great way to sneak some extra veggies into your breakfast without sacrificing flavor.
This recipe is low in calories and points on the Weight Watchers plan. So with just 2 Green Plan points or 2 Smart Points, you can enjoy a hearty and satisfying breakfast that won't throw off your daily goals.
So whether you're hosting a healthy brunch or just looking for a special weekend WW Friendly breakfast, give this Weight Watchers Eggs Benedict Recipe a try.


Weight Watchers Points

MyWW Points: 2 Green Plan,
2 Smart Points.

Personal Points will vary based on your individual plan.


Related Recipes
Weight Watchers Poached Eggs With Tomato Sauce

Smoked Salmon And Egg In An Avocado (Weight Watchers)

Instant Pot® Hard-Boiled Eggs



We add new recipes almost every day, so check back often!

We are not affiliated with Weight Watchers/WW in any way. We just like creating healthier recipe options. We do not give any advice on diet or eating habits. Please consult a doctor before changing your diet.
Points® are a trademark of the WW corporation, double check Points® on their official calculator.

Affiliate Disclosure: Some links may be affiliate links where I make a small commission if you purchase anything after clicking a link. There is no additional cost to you. As an Amazon Associate I earn from qualifying purchases.
Love wine? Check out this cute wine glass! The Weight Watchers Points Stemless Wine Glass. 3 Points, 5 Points, Who Cares?

Fun but practical! Measurements are at 4 ounces, 7 ounces, and 10 ounces. Don't forget to convert the points to your WW Personal Points for your individual plan.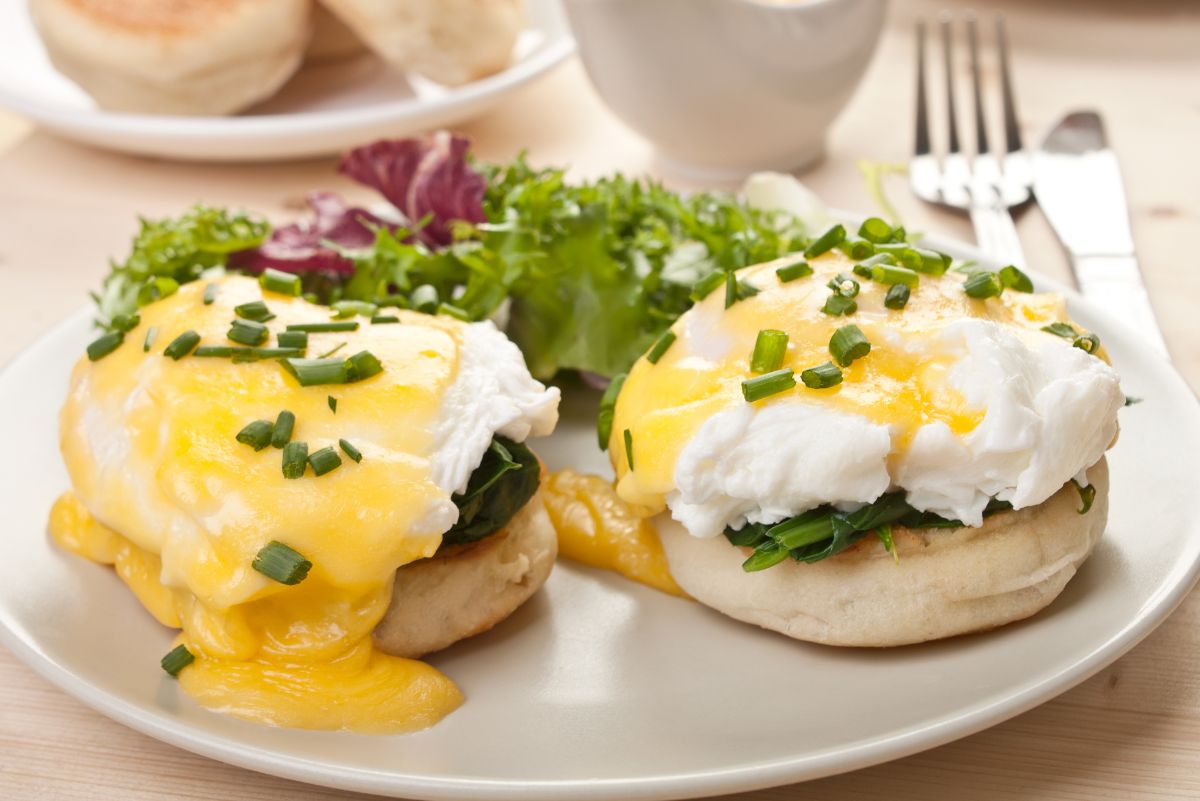 Don't have a Double Boiler? This is the one we use, and recommend:

If you're interested in seeing the tools and equipment we use in our kitchen, we have them posted here.

Need to make more or fewer servings?
On Desktop, hover over "Servings" # and move the slider to desired number of servings.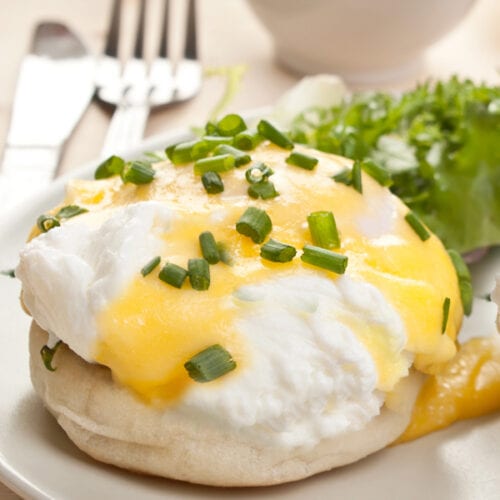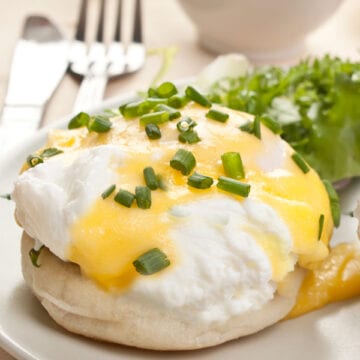 Weight Watchers Eggs Benedict
Weight Watchers Eggs Benedict Recipe. This classic breakfast or brunch recipe is delicious and ready in 20 minutes. Don't be intimidated, it's not as hard as it looks. Top with chives, or add some fresh spinach. Eggs have never been so good!
Instructions
For the Hollandaise Sauce:
In the bottom of the double boiler, add approx 2 inches of water, don't let it touch the bottom of the top pan.

In the top pan of the double boiler, add egg yolks, lemon juice, and yogurt. Whisk together.

Stir frequently and heat the sauce approx 15 minutes until it thickens.

In the meantime, place a saucepan with approx 3 inches of water over medium high heat and bring to a simmer. This will be for the poached eggs later. When it simmers, reduce to medium low heat. Temperature should stay between 180° F and 190° F.

Remove double boiler from heat.

Stir-in paprika, salt, and mustard. Set aside.

Split and toast the whole wheat English muffins.

Place the toasted English muffins on serving plates.
For the Poached Eggs:
In the saucepan of simmering water, add 2 tablespoons of vinegar.

In a small bowl, crack an egg into bowl.

Carefully tip the bowl to gently place the egg in the saucepan.

Repeat for the other 3 eggs.

Using a wooden spoon, slowly stir the water for approx 10 to 15 seconds.

Leave eggs alone and let cook approx 3 – 5 minutes or until the whites are set.

Using a slotted spoon, carefully remove one egg at a time and place on prepared English muffins.

Season eggs with salt and pepper to taste.

Drizzle eggs with Hollandaise sauce and top with chives.
Notes
MyWW Points: 2 Green Plan
2 WW Smart Points
Nutrition
Calories:
215
kcal
Carbohydrates:
19
g
Protein:
13
g
Fat:
10
g
Saturated Fat:
3
g
Cholesterol:
273
mg
Sodium:
383
mg
Fiber:
2.6
g
Sugar:
7
g
You May Also Like:
---
---