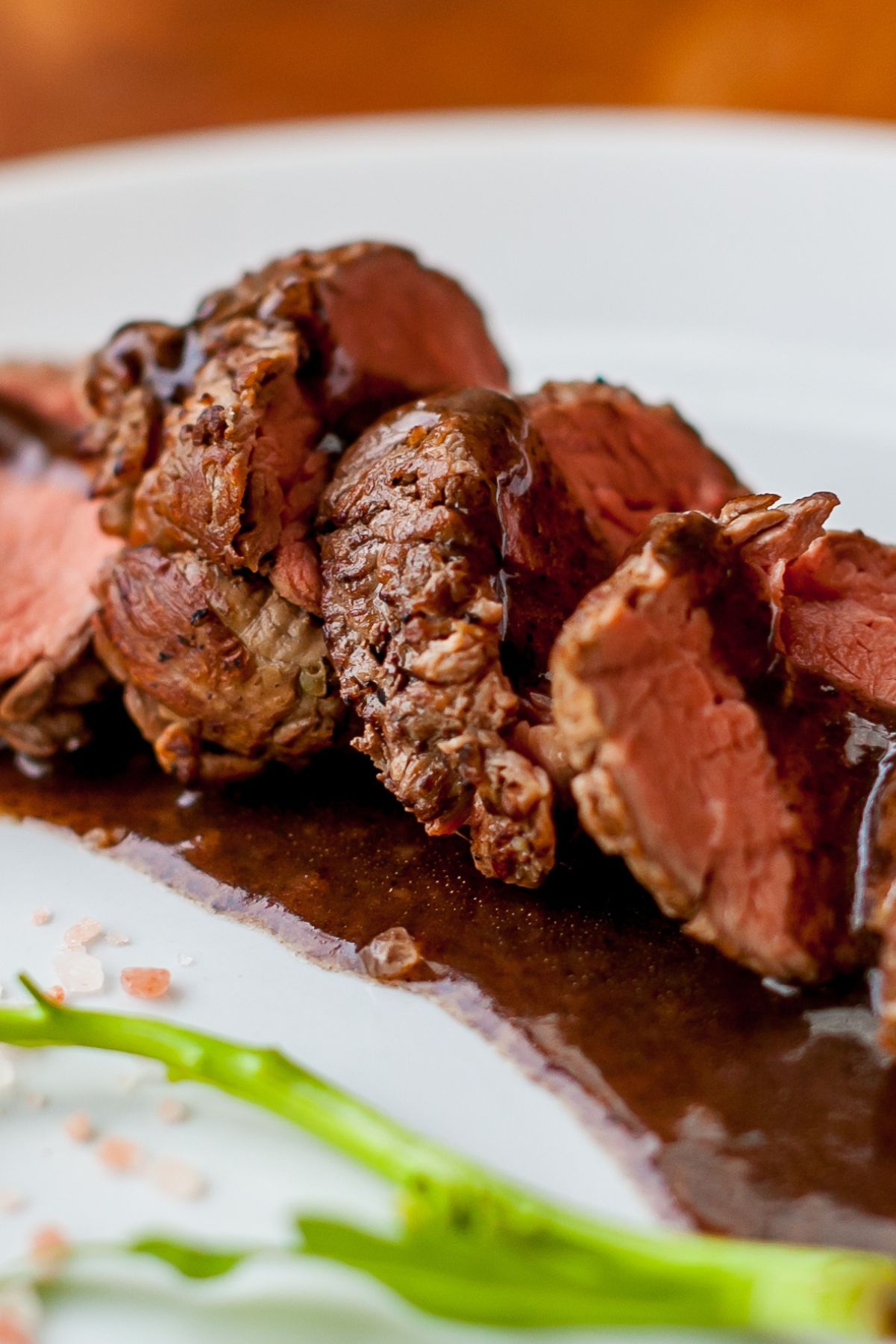 Weight Watchers Filet Mignon and Burgundy Wine Sauce Recipe


Weight Watchers Filet Mignon and Burgundy Wine Sauce Recipe. This versatile recipe brings together a few key ingredients to create a delectable accompaniment that's bound to impress.

It's the perfect WW friendly steak dinner.

Let's dive into what you need to prepare this delightful dish.
To bring this creation to life, you'll require a handful of common ingredients that you might already have on hand.

Each component plays a crucial role in crafting the final outcome, ensuring a satisfying blend of flavors and textures.

Don't worry about hunting down rare items – simplicity is key here.


Weight Watchers Points

7 Points (2022/2023 Plan)

MyWW Points: 7 Blue Plan and 5 Green Plan

7 WW Freestyle Points and 5 Smart Points


Related Recipes

Weight Watchers Easy Beef Stir-Fry

Weight Watchers Orange Sirloin Beef And Broccoli

Easy Weight Watchers Roasted Brisket



We add new recipes almost every day, so check back often!

We are not affiliated with Weight Watchers/WW in any way. Please consult a doctor before changing your eating habits.
Double check points on the official calculator.

Affiliate Disclosure: Some links may be affiliate links where I make a small commission if you purchase anything after clicking a link. There is no additional cost to you. As an Amazon Associate I earn from qualifying purchases.
Love wine? Check out this cute wine glass! The Weight Watchers Points Stemless Wine Glass. 3 Points, 5 Points, Who Cares?

Fun but practical! Measurements are at 4 ounces, 7 ounces, and 10 ounces. Don't forget to convert the points to your WW Personal Points for your individual plan.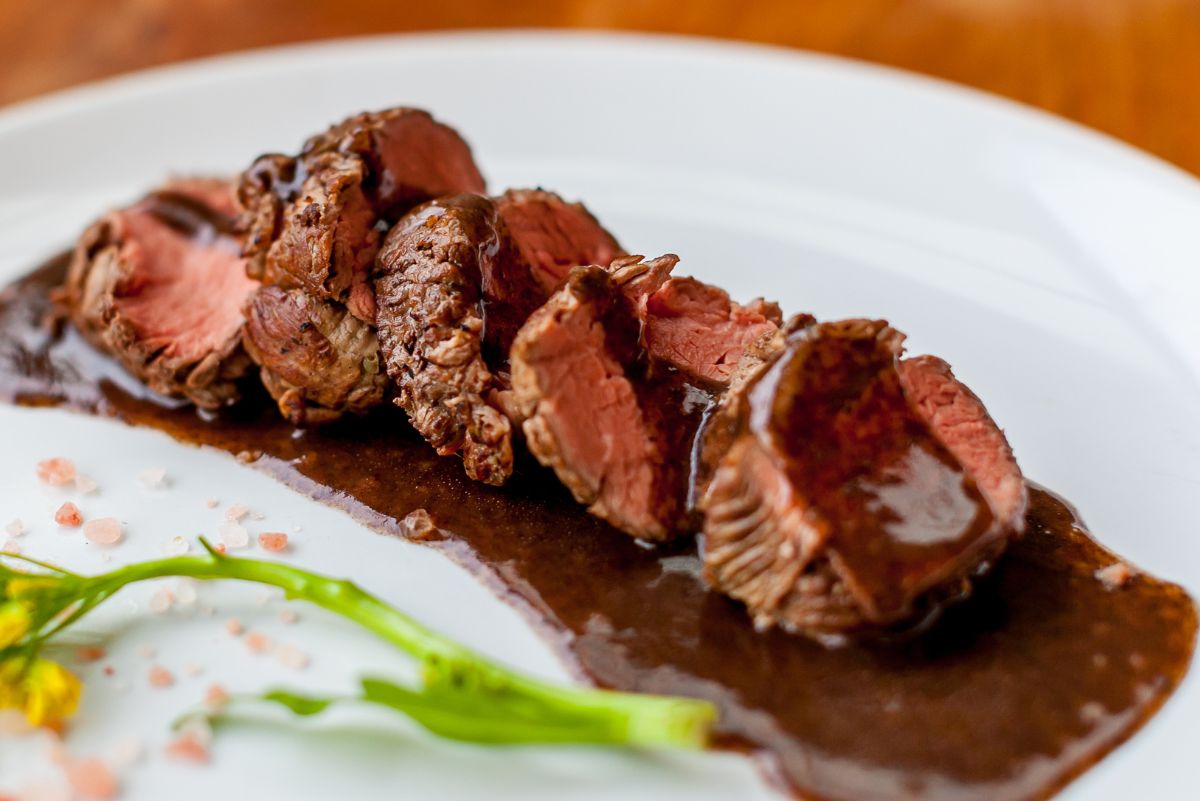 Frequently Asked Questions
Can I use a different type of steak instead of filet mignon for this recipe?
Absolutely! While the recipe features filet mignon, you can use other cuts of steak like ribeye, sirloin, or New York strip. Adjust the cooking time based on the thickness of the steak and your preferred level of doneness.
What sides would complement the Filet Mignon and Burgundy Wine Sauce?
This elegant dish pairs wonderfully with a variety of sides. Consider serving it with roasted vegetables, garlic mashed potatoes, or a crisp salad to create a well-rounded meal.
How can I ensure the Filet Mignon is cooked perfectly to my liking?
To achieve the desired level of doneness for the Filet Mignon, use a meat thermometer to monitor the internal temperature. For rare, aim for 120-125°F (49-52°C), medium-rare 130-135°F (54-57°C), medium 140-145°F (60-63°C), and well-done 160°F (71°C) and above.
Can I make the sauce ahead of time and reheat it later?
Yes. You can prepare the sauce ahead of time and store it in the refrigerator. When ready to serve, gently reheat the sauce on the stovetop, stirring occasionally. If the sauce thickens too much, you can add a small amount of additional wine or broth to adjust the consistency.

If you're interested in seeing the tools and equipment we use in our kitchen, we have them posted here.

Need to make more or fewer servings?
On Desktop, hover over "Servings" # and move the slider to desired number of servings.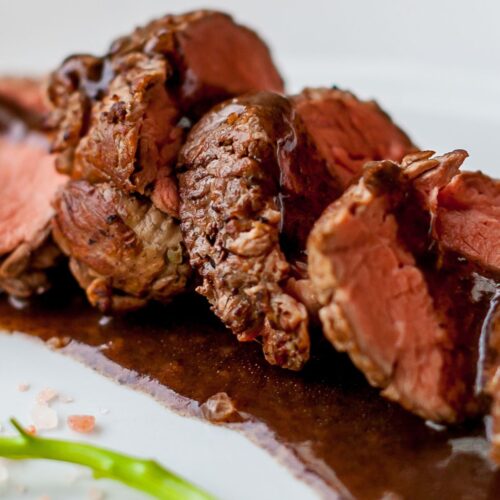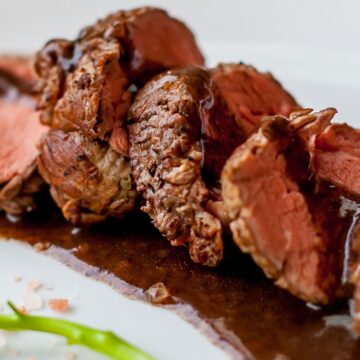 Weight Watchers Filet Mignon and Burgundy Wine Sauce
Weight Watchers Filet Mignon and Burgundy Wine Sauce. Indulge in the savory elegance of this WW steak dinner.
Ingredients
½

teaspoon

salt

½

teaspoon

fresh ground black pepper

8

ounces

lean and trimmed filet mignon

 washed and patted dry 

6

tablespoon

Burgundy wine

1

teaspoon

unsalted butter
Instructions
Prepare a grill pan with sides by spraying with non-stick cooking spray.

Put the pan on medium-high heat.

Rub salt and pepper all over the steak. Give it a good coating.

When the pan gets hot, put the steak in. Let it cook for about 4 minutes. Don't flip it yet.

Flip the steak over using a spatula or tongs. Cook it for another 4 to 6 minutes. This will make the steak medium-done.

Take the steak out of the pan and put it on a cutting board.

Cover the steak with a piece of aluminum foil. Just drape it over the top.

Wait for at least 10 minutes. The steak needs a little rest. It will keep cooking even under the foil.

While the steak rests, pour some wine into the grill pan.

Turn up the heat to high. Let the wine boil and reduce by about 75%.

While the sauce is boiling, scrape the bottom and sides of the pan.

If any juice came out of the steak while resting, pour it into the pan too.

When the sauce gets thicker, add some butter.

Serve sauce on top of steak.
Notes
Serving Size: 3

½

 ounces steak, 1 tablespoon sauce
7 Points (2022/2023 Plan)
MyWW Points: 7 Blue Plan and 5 Green Plan
7 WW Freestyle Points and 5 Smart Points
We are not associated with Weight Watchers/WW in any way. Double check points on their official calculator.
Nutrition
Calories:
224
kcal
Carbohydrates:
1
g
Protein:
25
g
Fat:
9
g
Saturated Fat:
4
g
Polyunsaturated Fat:
0.4
g
Monounsaturated Fat:
3
g
Trans Fat:
0.1
g
Cholesterol:
78
mg
Sodium:
644
mg
Potassium:
409
mg
Fiber:
0.1
g
Sugar:
0.01
g
Vitamin A:
65
IU
Calcium:
28
mg
Iron:
2
mg
You May Also Like:
---
---