Weight Watchers Lavender Creme Brulee Recipe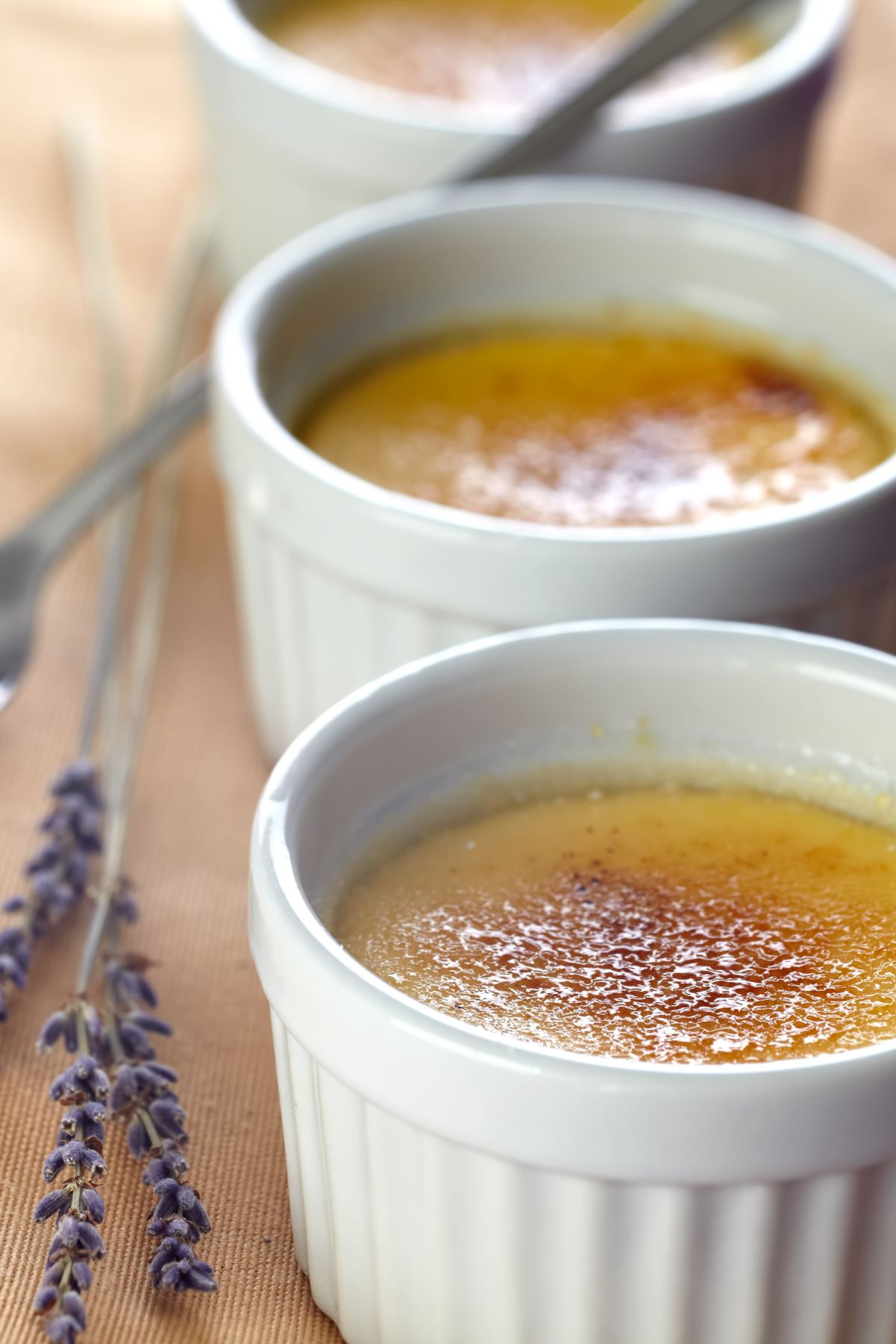 Weight Watchers Lavender Creme Brulee Recipe. This easy-to-follow recipe will guide you in creating a creamy and satisfying dessert,
To make this delightful dish, gather a few key ingredients, including milk, ginger, lavender, sugar, and eggs. These simple components come together to create a flavorful and light dessert that you'll love.
Serve the Lavender Creme Brulee as a sweet ending to a special meal or as a standalone treat.

Pair it with fresh fruits, like berries or sliced peaches, for a burst of refreshing flavors that complement the creamy custard perfectly.


Tips and Tricks

When combining the hot milk mixture with the eggs and sugar, remember to slowly incorporate it while whisking continuously. This technique makes a smooth and velvety texture.
After baking, allow the custard to cool completely before chilling in the refrigerator. This step is crucial to achieve the desired consistency and set the custard properly.


Weight Watchers Points

3 Points

MyWW Points: 3 Blue Plan and 5 Green Plan

3 WW Freestyle Points and 5 WW Smart Points


Related Recipes

Weight Watchers Pumpkin Flan

Weight Watchers Raspberry Pudding Cups

Simple Strawberry Cream Cheese Mousse (Weight Watchers)



We add new recipes almost every day, so check back often!

We are not affiliated with Weight Watchers/WW in any way. Please consult a doctor before changing your eating habits.
Double check points on the official calculator.

Affiliate Disclosure: Some links may be affiliate links where I make a small commission if you purchase anything after clicking a link. There is no additional cost to you. As an Amazon Associate I earn from qualifying purchases.
Love wine? Check out this cute wine glass! The Weight Watchers Points Stemless Wine Glass. 3 Points, 5 Points, Who Cares?

Fun but practical! Measurements are at 4 ounces, 7 ounces, and 10 ounces. Don't forget to convert the points to your WW Personal Points for your individual plan.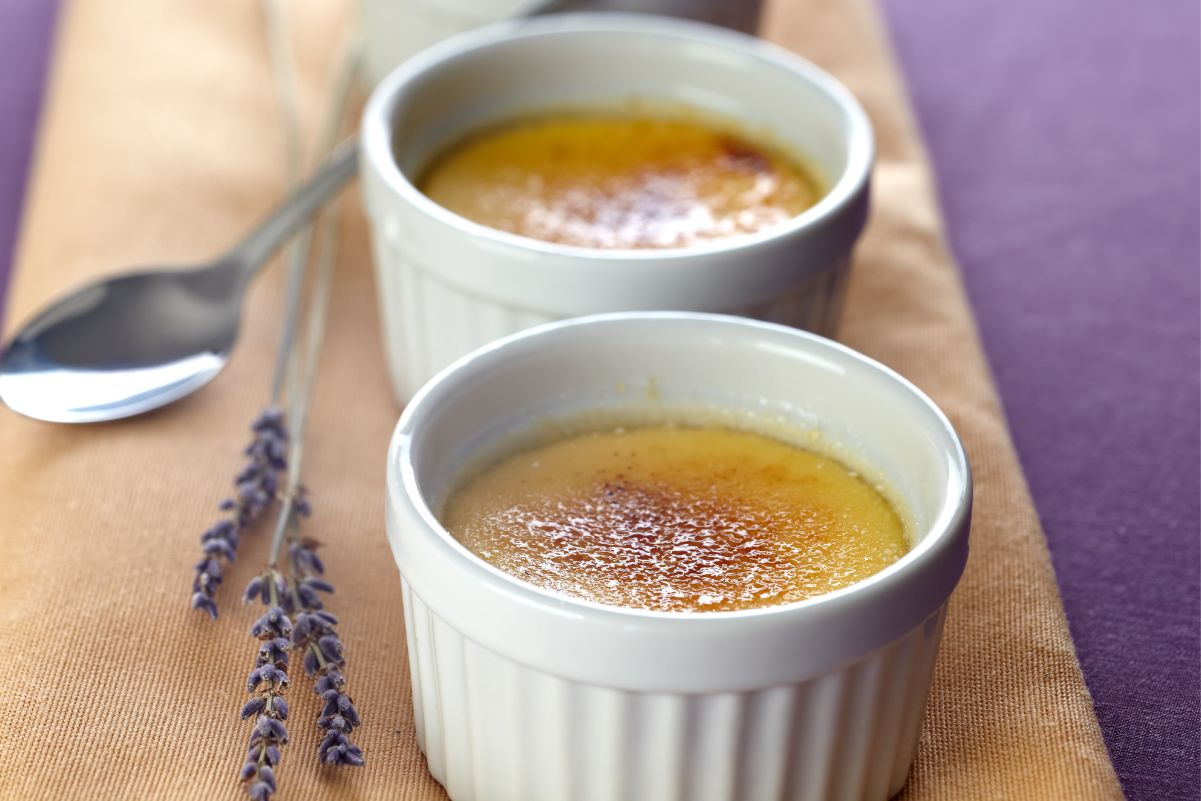 Frequently Asked Questions
Can I make the Weight Watchers Lavender Creme Brulee ahead of time?
Yes! You can prepare the custards ahead of time and refrigerate them for up to three days before serving.
Is lavender necessary for this recipe, or can I skip it?
While lavender adds a unique floral note, you can omit it if you don't have any or prefer a different flavor profile. The custards will still be delicious!
Can I substitute the sugar with an alternative sweetener?
Yes, you can experiment with sugar substitutes like stevia or erythritol for a lower-calorie option. Follow the recommended substitution measurements provided by the sweetener's manufacturer.
How do I know if the custards are done baking?
The custards should be set around the edges but slightly jiggly in the center. Gently shake the pan to check the consistency.
Can I freeze the Weight Watchers Lavender Creme Brulee?
Unfortunately, freezing is not recommended, as it may affect the texture and taste. It's best to enjoy the custards within a few days of preparation.

If you're interested in seeing the tools and equipment we use in our kitchen, we have them posted here.

Need to make more or fewer servings?
On Desktop, hover over "Servings" # and move the slider to desired number of servings.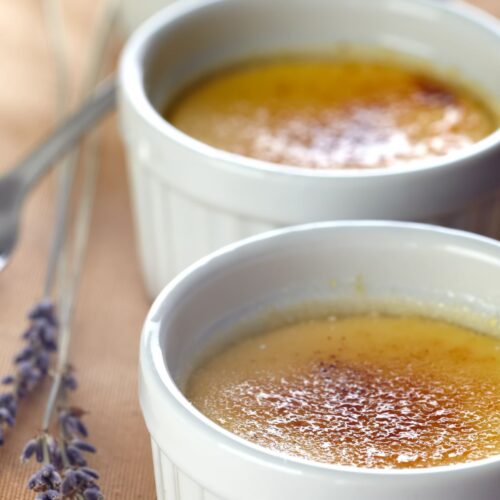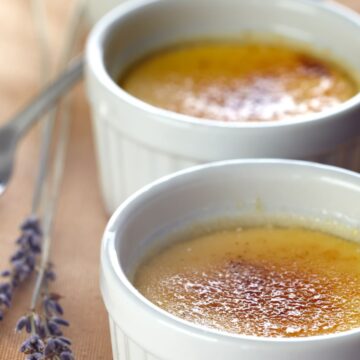 Weight Watchers Lavender Creme Brulee
Indulge guilt-free in a Weight Watchers Lavender Creme Brulee, a creamy and delightful dessert with a hint of lavender. This easy recipe is the perfect treat for a special occasion or a sweet ending to any meal.
Instructions
Preheat the oven to 350 degrees F.

In a saucepan, put the milk, ginger, and lavender. Turn on the heat to medium.

Wait for the milk mixture to start boiling. Once it's boiling, remove the saucepan from the heat.

Cover the saucepan and let the milk mixture sit for 10 minutes.

Place a sieve over a bowl and pour the milk mixture through it. Press on the solids with a spoon to strain out any bits. Get rid of the solids.

In a bowl, whisk together ⅓ cup of sugar, an egg, and the yolks. Keep whisking for about 1 minute.

Slowly pour the hot milk mixture into the bowl while whisking. Keep whisking until everything is mixed together.

Divide the mixture evenly into 6 custard cups or ramekins.

Put the custard cups into a shallow roasting pan.

Pour enough boiling water into the roasting pan so that it comes up halfway on the sides of the custard cups.

Carefully place the roasting pan in the oven and bake for 35-45 minutes.

Take out the custard cups from the oven and put them on a cooling rack.

Let the custard cups cool completely.

Cover the custard cups and put them in the refrigerator. Leave them in there until they set (at least 4 hours). You can even make them ahead and keep them refrigerated for up to 3 days.

When you're ready to serve and make the topping, preheat the broiler.

Sprinkle 4 teaspoons of sugar evenly on top of the custards.

Place the custard cups on the bottom part of the broiler pan.

Turn on the broiler and keep the custard cups about 5 inches away from the heat.

Let the custards broil for 2-5 minutes, but keep an eye on them.

Take the custard cups out of the oven and let them sit for a few minutes.

If you like, sprinkle some fresh lavender on top of the custards.
Notes
3 Points
MyWW Points: 3 Blue Plan and 5 Green Plan
3 WW Freestyle Points and 5 WW Smart Points
We are not associated with Weight Watchers/WW in any way. Double check points on their official calculator.
Nutrition
Calories:
193
kcal
Carbohydrates:
28
g
Protein:
8
g
Fat:
6
g
Saturated Fat:
2
g
Polyunsaturated Fat:
1
g
Monounsaturated Fat:
2
g
Trans Fat:
1
g
Cholesterol:
193
mg
Sodium:
69
mg
Potassium:
225
mg
Fiber:
1
g
Sugar:
27
g
Vitamin A:
500
IU
Vitamin C:
1
mg
Calcium:
184
mg
Iron:
1
mg
You May Also Like:
---
---