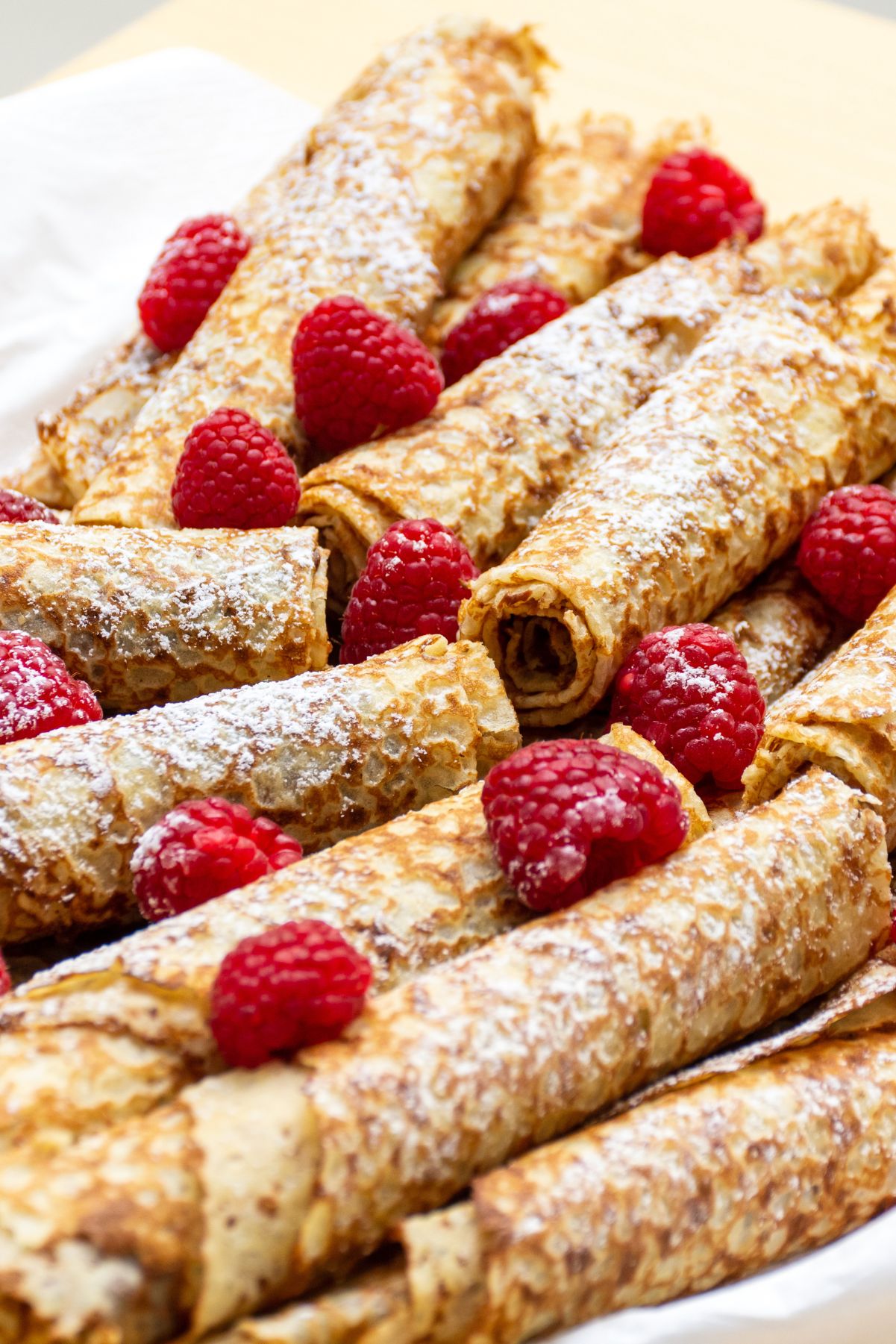 Weight Watchers Healthier Raspberry Crepes Recipe

Weight Watchers Healthier Raspberry Crepes Recipe. This delicious recipe features a low-calorie batter that is made with simple ingredients such as eggs, egg whites, flour, and milk, creating a light and fluffy crepe that won't weigh you down.

The sweet and tangy raspberry sauce is made with frozen raspberries and jam, giving you all the flavor without the added sugar.
These crepes are perfect for those following the WW program, as they are low in points and can be enjoyed guilt-free.

Whether you're looking for a quick breakfast or a sweet snack, these low fat crepes are the perfect choice.
One of the best things about these crepes is that they are incredibly versatile. You can customize them to your liking with different toppings and flavors.

Top your crepes with fresh raspberries and a sprinkle of sugar for added sweetness, or get creative with other toppings like chocolate chips, whipped cream, or even a drizzle of maple syrup.



Weight Watchers Points

5 Points®

MyWW Points: 5 Blue Plan and 7 Green Plan

7 Smart Points


Related Recipes

Weight Watchers 5 Ingredient Crepes

Weight Watchers Simple Crepes

Weight Watchers Chocolate Peanut Butter Crepes

Weight Watchers Mixed Berry Crepe




We add new recipes almost every day, so check back often!

We are not affiliated with Weight Watchers/WW in any way. We just like creating healthier recipe options. We do not give any advice on diet or eating habits. Please consult a doctor before changing your diet.
Points® are a trademark of the WW corporation, double check Points® on their official calculator.

Affiliate Disclosure: Some links may be affiliate links where I make a small commission if you purchase anything after clicking a link. There is no additional cost to you. As an Amazon Associate I earn from qualifying purchases.
Love wine? Check out this cute wine glass! The Weight Watchers Points Stemless Wine Glass. 3 Points, 5 Points, Who Cares?

Fun but practical! Measurements are at 4 ounces, 7 ounces, and 10 ounces. Don't forget to convert the points to your WW Personal Points for your individual plan.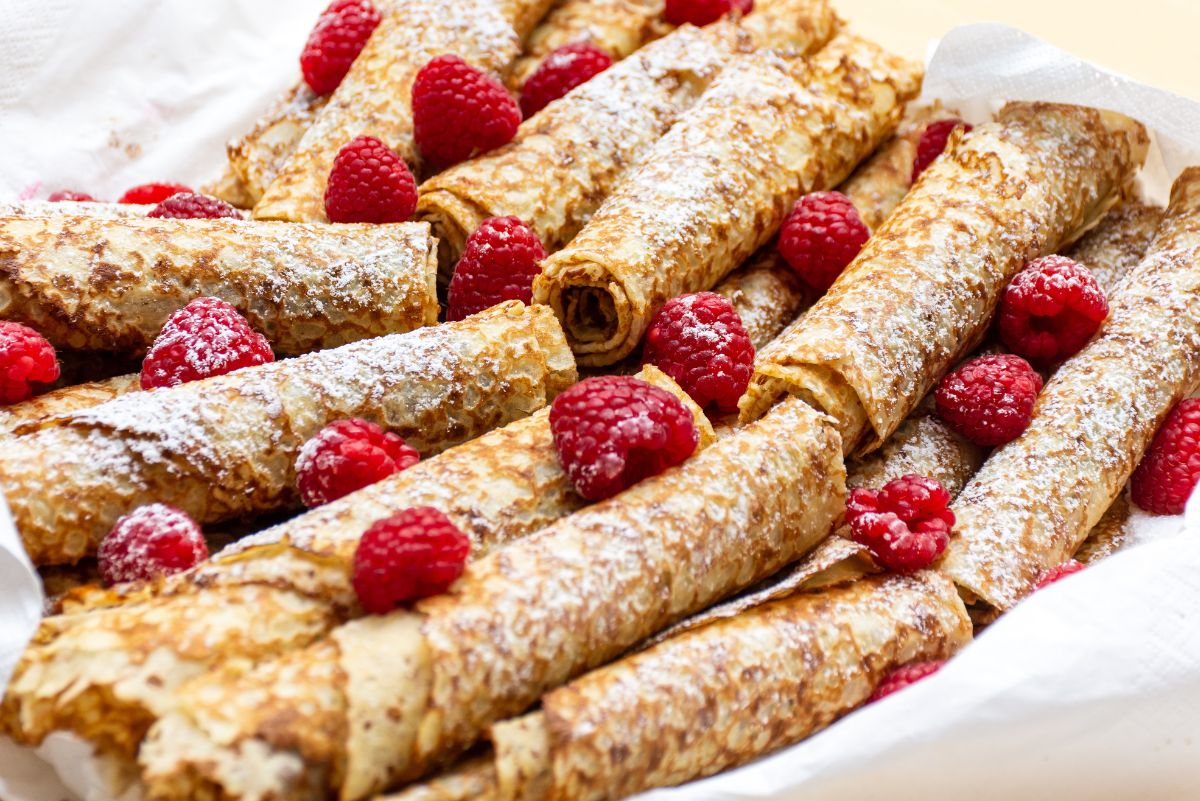 If you're interested in seeing the tools and equipment we use in our kitchen, we have them posted here.

Need to make more or fewer servings?
On Desktop, hover over "Servings" # and move the slider to desired number of servings.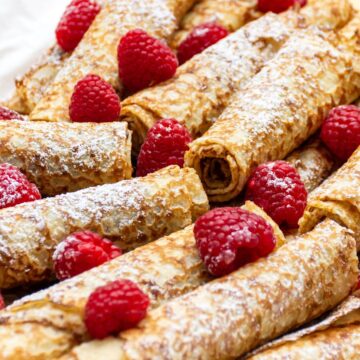 Weight Watchers Healthier Raspberry Crepes
Instructions
Combine raspberries and jam in a small saucepan and place over medium-low heat.

Cook mixture, stirring occasionally, until raspberries are thawed and coated with jam. Set aside.

In a medium bowl, beat eggs and egg whites using an electric mixer.

Add salt to the egg mixture and beat to combine.

Alternate adding flour and milk to the egg mixture in batches, beating until batter is smooth.

Coat a small skillet with cooking spray and heat over medium-high heat.

Add 1/2 cup of batter to the skillet and immediately reduce heat to medium-low.

Tilt the skillet to evenly coat the bottom with batter.

Cook the crepe until golden on the bottom, about 2 minutes.

Flip the crepe with a spatula and cook until golden on the other side, about 2 minutes more.

Remove the crepe from the skillet and cover to keep warm.

Repeat steps 7-11 with the remaining batter.

Spoon about 2 tablespoons of the raspberry sauce down the center of each crepe.

Roll up the crepes and dust each with 1/4 teaspoon of sugar.

Top each crepe with fresh raspberries.
Notes
Serving Size: 1 Crepe
5 Points®
MyWW Points: 5 Blue Plan and 7 Green Plan
7 Smart Points
We are not associated with Weight Watchers/WW in any way. Double check points on their official calculator.
Nutrition
Calories:
219
kcal
Carbohydrates:
35
g
Protein:
13
g
Fat:
4
g
Saturated Fat:
1
g
Polyunsaturated Fat:
1
g
Monounsaturated Fat:
1
g
Trans Fat:
0.01
g
Cholesterol:
98
mg
Sodium:
297
mg
Potassium:
389
mg
Fiber:
5
g
Sugar:
15
g
Vitamin A:
332
IU
Vitamin C:
10
mg
Calcium:
154
mg
Iron:
2
mg
You May Also Like:
---
---