Weight Watchers Au Gratin Potatoes Recipe

Weight Watchers Au Gratin Potatoes Recipe with butter, onion, flour, milk, and low fat shredded cheese.

A delicious vegetarian side dish recipe to satisfy your comfort food cravings!

MyWW Points: 5 Blue Plan and 5 Green Plan
5 WW Freestyle Points and 5 Smart Points.

We have more Weight Watchers Side Dish Recipes here,

and more Vegetarian Weight Watchers Recipes here!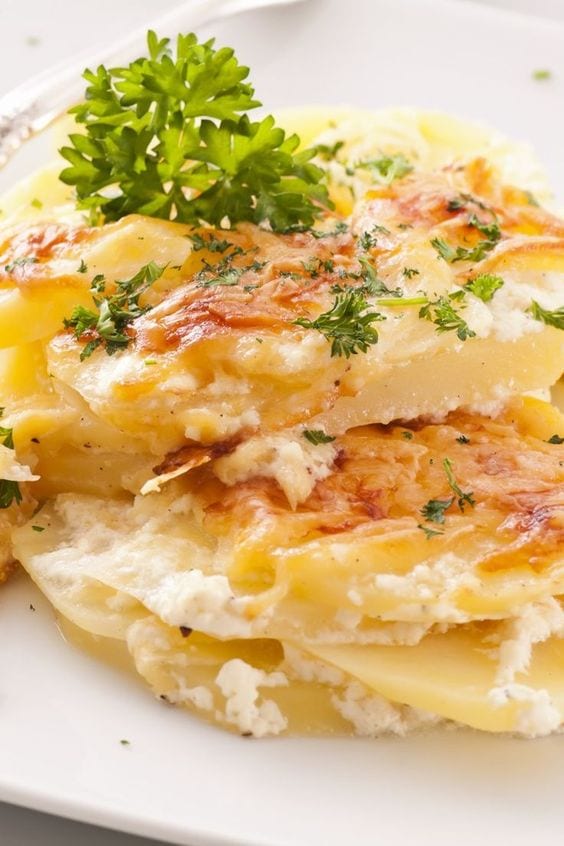 We add new recipes almost every day, so check back often!

We are not affiliated with Weight Watchers/WW in any way. We just like creating healthier recipe options. We do not give any advice on diet or eating habits. Please consult a doctor before changing your diet.
Double check points on the official calculator.

Affiliate Disclosure: Some links may be affiliate links where I make a small commission if you purchase anything after clicking a link. There is no additional cost to you. As an Amazon Associate I earn from qualifying purchases.
---
Amazon Halo Band – An easy way to keep up with your health by tracking your activity, sleep quality, amount of sleep, sleep temperature, your heart rate, and more!
It's also a great Christmas gift idea for the person who has everything!

Check out the Amazon Halo Band today! See Details Here!
---
Ingredients you will need:
1 tbsp butter
1 medium onion thinly sliced
1 – 2 tbsp flour
2 cups milk – non-fat
2 lbs potatoes thinly sliced
1 tsp salt
¼ tsp black pepper
1 cup shredded cheese – low fat
Equipment you will need:
How to make:
Heat oven to 375 degrees.
Coat a 2 quart baking dish with Pam cooking spray.
In a large skillet, over medium heat, melt butter. Cook onion in skillet stirring occasionally approx 5 minutes, until onion starts to brown. Stir in flour, then slowly stir in milk.
Stir in potatoes and mix well. Bring to boil.
Add salt and pepper, and stir in ¾ cup of the shredded cheese. Reserve the other ¼ cup for later.
Pour skillet contents into baking dish. Bake uncovered 1 hour.
Cover with foil and bake an additional 20 minutes.
Sprinkle ¼ cup of shredded cheese on top. Broil (6 inches) from heat, approx 1 to 2 minutes until cheese becomes golden.
Cool for approx 5 minutes. Serve

If you're interested in seeing the tools and equipment we use in our kitchen, we have them posted here.

Need to make more or fewer servings?
On Desktop, hover over "Servings" # and move the slider to desired number of servings.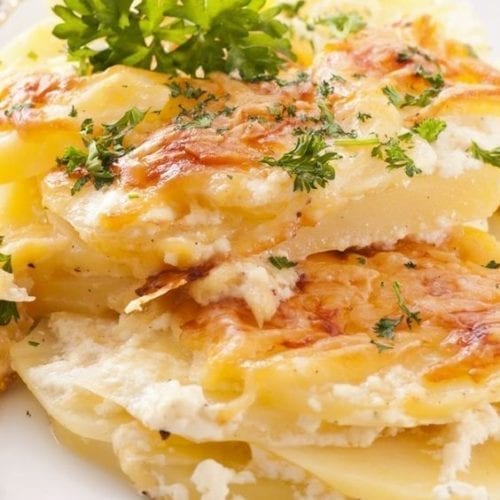 Weight Watchers Au Gratin Potatoes
Weight Watchers Au Gratin Potatoes Recipe. A delicious side dish recipe to satisfy your comfort food cravings! 5 WW Freestyle Points (Blue Plan) and 5 Smart Points.
Ingredients 
1

tbsp

butter

1

medium

onion

thinly sliced

1 – 2

tbsp

flour

2

cups

milk – non-fat

2

lbs

potatoes

thinly sliced

1

tsp

salt

¼

tsp

black pepper

1

cup

shredded cheese – low fat
Instructions 
Heat oven to 375 degrees.

Coat a 2 quart baking dish with Pam cooking spray.

In a large skillet, over medium heat, melt butter. Cook onion in skillet stirring occasionally approx 5 minutes, until onion starts to brown. Stir in flour, then slowly stir in milk.

Stir in potatoes and mix well. Bring to boil.

Add salt and pepper, and stir in ¾ cup of the shredded cheese. Reserve the other ¼ cup for later.

Pour skillet contents into baking dish. Bake uncovered 1 hour.

Cover with foil and bake an additional 20 minutes.

Sprinkle ¼ cup of shredded cheese on top. Broil (6 inches) from heat, approx 1 to 2 minutes until cheese becomes golden.

Cool for approx 5 minutes. Serve
Notes
5 WW Freestyle Points 5 Smart Points
Nutrition
Calories:
158.7
kcal
Carbohydrates:
25.3
g
Protein:
8.7
g
Fat:
2.8
g
Saturated Fat:
1.7
g
Cholesterol:
8.5
mg
Sodium:
437.5
mg
Fiber:
2.8
g
Sugar:
4.7
g
You May Also Like:
---
---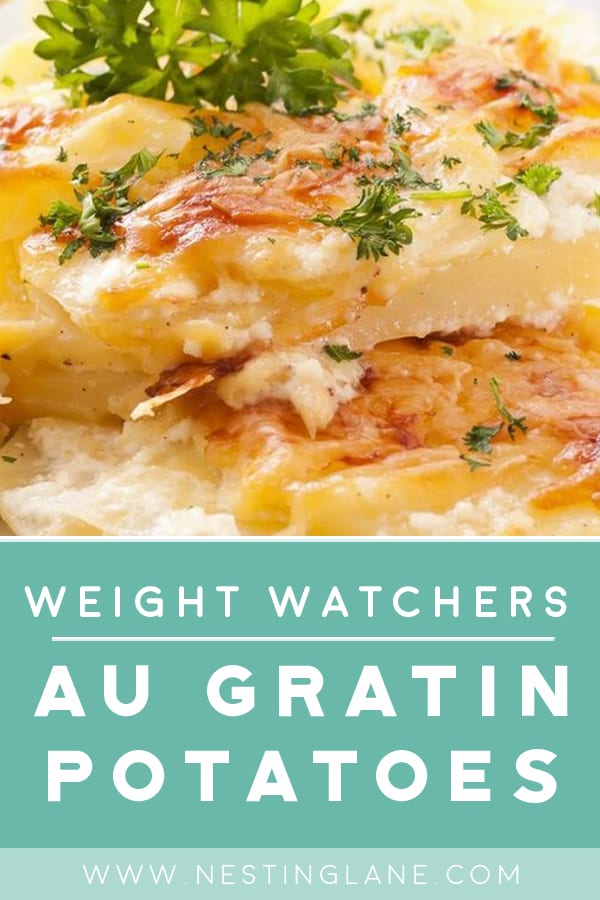 Not interested in Healthy Recipes? Check out our sister site, Nesting Lane Indulge